How Does CKD Patients Handle Uric Acid in the Blood
2014-12-16 11:56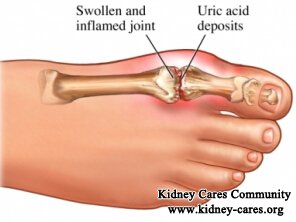 Uric acid is the waste product of purine passed out of the body by kidneys. When your kidneys are not able to work properly, uric acid builds up in the blood, leading to high uric acid level. Uric acids are easy to form crystals and deposit in the joints. This can give rise to gout so as to make you painful. How does CKD patients handle uric acid in the blood?
There are two reasons that can contribute to the high uric acid level. One is that you consume too much food high in purines, and the other is that your kidneys can not excrete them well enough. Therefore, we should lower uric acid from them.
Reduce the intake of purine to decrease the production of uric acids
Animal viscera, fish, pork, beef, poultry, mutton, turkey and some other meat are good source of purine, which vegetables and fruits are usually purine free. Therefore, you had better limit meat intake and eat more vegetables and fruits. You can also consume moderate carbohydrates, such as rice and bread. They are helpful for lowering uric acids. Besides, you should pay attention to the intake of fat, which is bad for urine acid excretion.
Improve kidney function to increase uric acids output
In Traditional Chinese Medicine, there are many therapies to help you cleanse the blood, such as circle therapy, enema therapy, steam therapy and medicated bath. They can also remove stasis and improve blood circulation in the kidney so as to help kidney self-healing. Micro-Chinese Medicine Osmotherapy is also often used together to eliminate kidney inflammation, stop kidney fibrosis and supplement essential nutrients to speed up kidney recovery. After a period of treatment, your kidney function improves and then uric acids can be removed from the blood.
There are also some other ways to help you handle uric acid in the blood. For example, if you do not have edema, drinking moderate water helps uric acids discharge from the blood. There are also many other medicines to help you handle uric acids directly. For more information, please contact online doctor or leave a message below.