How To Manage Protein In Urine
2014-12-15 02:08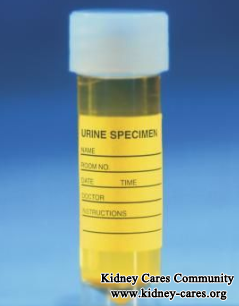 Protein in urine or proteinuria is the typical symptom of chronic kidney disease (CKD). The cause of proteinuria has close relation with the glomerular barrier function. When this function is damaged, protein in urine is likely to occur. Well, how to remove protein in urine effectively?
Protein in urine is a typical symptom of kidney disease but the amount of proteinuria does not represent the severity of kidney damage. People with slight glomerular lesion does not surely have less protein in urine. For example, although minimal change disease (MCD) and slight mesangial proliferative glomerulonephritis, kidney lesion is slight but the amount of proteinuria is about few grams or even more than ten grams per day. On the contrary, as for serious kidney lesion, the proteinuria amount may be only few grams per day. Therefore, the treatment for protein in urine depends on the type of kidney pathology, severity of kidney damage and the kidney function. Besides, the treatment also depends on whether patients cooperate with the doctor, factors of recurrent disease like cold, tiredness and diarrhea, treatment adherence and nephrotoxic medications. Well, how to remove protein in urine?
To remove protein in urine, it includes the following:
1. Diet
As for nephritis patients with massive proteinuria, generally proteinuria can be managed by diet. nephritis patients should be given high quality but low protein diet.
Protein intake per day should be controlled at 0.6-0.8g/kg of the body weight. As for uremia patients, during the treatment of dialysis, especially peritoneal dialysis, protein intake per day should increase to 1.2-1.5g/kg body weight. Nephrotic syndrome patients with massive protein in urine but normal kidney function should be given high protein intake to alleviate hypoproteinemia, reduce edema and increase the body immunity.
If nephritis patients have azotemia or suffer from kidney dysfunction in the early stage, they should limit the protein intake. Otherwise, it will aggravate kidney damage. In a word, different patient should choose different diet tips. If you want to get your individualized diet suggestion, you can leave us a message to kidneycares@hotmail.com or consult our online doctor directly.
2. Chinese herbs
To repair damaged glomerular cells is the radical way for proteinuria. Chinese herbs have functions of preventing inflammation accelerating blood circulation and dilate blood vessels. This provides a good micro-environment of the kidneys and nourishes the kidneys to enhance the kidneys.
With proteinuria, you should first find out the real cause of proteinuria and then take relative treatment to remove protein in urine. Any question, feel free to consult us.