How To Improve Vomiting And Nausea In Chronic Kidney Disease
2014-12-08 03:00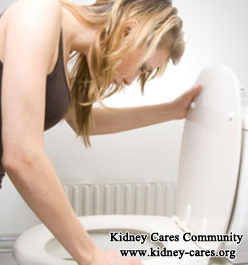 Chronic kidney disease (CKD) is a progressive kidney damage and kidney function will decline gradually. Since kidneys filter waste from your body, CKD puts you at risk for a build-up of these harmful substances. Under such condition, symptoms of CKD include exhaustion, nausea, build of fluid and confusion. If left untreated, renal failure can be life-threatening. However, the treatment is available for its symptoms such as vomiting and nausea.
1. What causes vomiting and nausea in CKD?
Causes of chronic kidney disease include chronic bacterial kidney infections, high blood pressure, immune system diseases, malformed kidneys and aging. In healthy kidneys, not all nephrons, or microscopic kidney units, function at the same time. Damaged or aging kidneys cause nephrons to die. In this case, all remaining nephrons work harder and have no rest. Since kidney function declines, waste products build up in the blood, causing vomiting and nausea.
2. How to treat vomiting and nausea in CKD?
2.1 Dialysis
Many people who experience vomiting and nausea in CKD will need temporary dialysis. Dialysis is an artificial kidney and it can clean out toxins and wastes that the kidneys can no longer remove. This therapy can improve vomiting and nausea to some extent.
2.2 Diet and CKD
People in CKD should follow a healthy diet to consist of
reducing protein consumption to help decrease the buildup of protein waste
limiting phosphorus to help PTH levels remain normal, prevent bone disease and even preserve existing kidney function
restricting potassium if blood levels are above normal
lowering sodium for people with high blood pressure or fluid retention by avoiding processed or pre-packaged foods.
2.3 Micro-Chinese Medicine Osmotherapy
This therapy is a relatively advanced remedy for kidney disease, but it has been considered as the most effective treatment for kidney disease. Micro-Chinese Medicine Osmotherapy can not only protect residual kidney function, but also improve renal function by dilating blood vessels, preventing inflammation and coagulation, degrading extracellular matrix. In this way, wastes in the body will be removed. Thus, nausea and vomiting will be alleviated naturally and effectively.