Why Anemia Patients Should Check Kidney Function
2014-11-30 14:33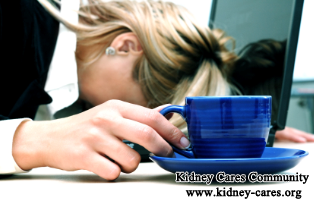 Anemia is the most common clinical manifestations of chronic kidney disease (CKD). Some patients often consider anemia as the primary symptom of CKD. The treatment for CKD will be delayed since patients only treat anemia. This brings harms to your health and even your life.
What are causes of anemia in CKD?
1. Renal lesions will lead to less erythropoietin (EPO)
2. Kidney dysfunction causes the accumulation of metabolic toxins, which will affect the microenvironment of medullary hematopoiesis.
3. Diseased kidneys will lead to vomiting, poor appetite, and other digestive symptoms. This affects the absorption of iron, folic acid and vitamin B12. As a result, malnourished anemia will occur.
4. Chronic kidney disease may cause bleeding of digestive tract. Hemorrhagic disease will also result in the loss of blood.
What are harms of anemia?
People suffer from anemia and chronic kidney disease will have discomforts like weakness and dizziness. Life quality will be affected. Long term of anemia will male patients suffer from left ventricular hypertrophy and other cardiovascular complications. Brain function and cognitive competence will become abnormal, which increases the death rate. Therefore, anemia patients must check kidney function to see whether they suffer from CKD.
How to alleviate anemia?
CKD patients with anemia need to take treatment positively to make hemoglobin be at 110-130g/L. The treatment for anemia in CKD include taking medications for producing red blood cells and supplementing nutrients like iron supplement, folic acid and vitamin B12. The curative effect is not so good. You should treat anemia from the root. Hence, repairing kidney damage and improving kidney function is very important for anemia. We use Micro-Chinese Medicine Osmotherapy to improve renal function naturally. The active ingredients can come to the damaged kidney lesions with the help of osmosis device. They have functions of dilating blood vessels, preventing inflammation and coagulation, degrading extracellular matrix and providing necessary nutrients for damaged kidneys. Gradually kidney function can be improved to a certain degree. Thus, its ability to produce red blood cells will be increased. In this way, anemia will be alleviated effectively.