Does Kidney Disease Cause You To Gain Weight
2014-11-27 14:45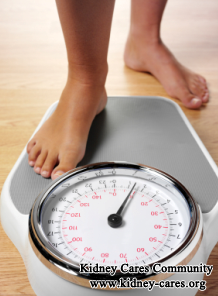 Does kidney disease cause you to gain weight? Yes, it does. Obesity is one of the leading causes of kidney disease, but having the disease itself can be a factor in your weight problem. The following will tell you how does kidney disease lead to weight gain.
1. Why does kidney disease cause weight gain?
One of the side effects of kidney disease is fluid retention, also called edema. Normally, kidneys will naturally remove out water, salt and other fluids from our bodies on a regular basis. However, once kidneys are damaged, they are much more slow at this process. The result is weight gain that results from retained water because the fluid is not properly discharged into the urine. Normally the weight gain and puffiness can be seen in certain areas of the body, such as ankles, feet, legs, hands, belly and face. With the advance of kidney disease, water retention can lead to other problems. To prevent this, you may limit some foods and fluids to help put less of a burden on the kidneys.
2. How to alleviate fluid retention?
Cut back on the sodium in your diet
High sodium diets are the number one cause of excess water weight. Avoid processed foods, deli meats, salty snacks and other foods that are high in sodium.
Try a natural diuretic
Some herbs are known to increase the kidney's fluid output, which helps control water retention. For example, dandelion has no harmful side effects and can be used indefinitely.
Micro-Chinese Medicine Osmotherapy
The root cause of fluid retention is damaged kidney. Micro-Chinese Medicine Osmotherapy can repair injured kidneys and improve kidney function. When kidney function is improved, its ability of excreting excessive water will also be enhanced naturally. Thus, fluid retention can be reduced. As a result, weight gain gets alleviated.
If you have weight gain, you should see your doctor to identify the cause. Or describe your condition to our online doctor and we are glad to help you.