Can Excessive Sweating At Night Be Related To Kidney Disease
2014-11-26 11:12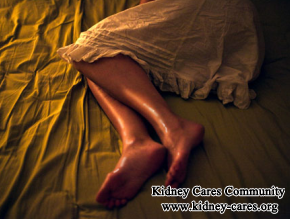 Why patients are saying about kidney disease and sweating? Renal disorders can cause a large number of symptoms and health problems ranging from excessive sweating, fluid retention, weakness, high blood pressure and anemia, etc. The following will introduce you more information about kidney disease and sweating. Let's look at the causes of excessive sweating in kidney disease.
A heart attack and excessive sweating
Heart disease is a serious complication of kidney disease. A heart attack, which occurs when a blood clot obstructs blood flow through a major vessel that delivers blood to the heart, can also cause excessive sweating.
Hyperthyroidism and excessive sweating
Hyperthyroidism is a medical condition of kidney disease, which can also cause excessive sweating. Hyperthyroidism occurs when the thyroid gland produces too much thyroid hormone, which affects the body's metabolism. People with hyperthyroidism may also experience rapid and sudden weight loss, difficulty sleeping, anxiety, intolerance to heat, increased appetite, an irregular or rapid heart beat.
High blood pressure and excessive sweating
High blood pressure is often experienced by kidney disease patients. There is a link between hypertension and excessive sweating.
Certain medications
Kidney disease patients usually take various medications. Excessive sweating may be a side-effect of taking certain medications.
If you have kidney disease, excessive sweating can be a symptom of your renal disease. If you have any doubt, you can seek for a kidney specialist or consult our online doctor, they will tell you whether your sweating is related to kidney disease.