Can Dizziness Be Caused by Kidney Disease
2014-10-31 16:33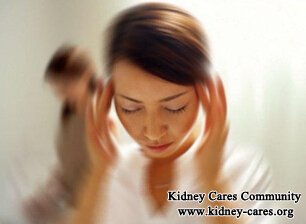 With kidney disease, you may have a lot of symptoms, such as foamy urine, blood urine, edema, etc. As the kidney disease develops, more symptoms appear and they become more and more serious. Sometimes kidney patients complain of dizziness. Can dizziness be caused by kidney disease?
As a matter as fact, kidney disease can not cause dizziness directly. But some of its symptoms can cause dizziness.
Dizziness may be caused by anemia.
Because of kidney disease, the kidneys are not able to secrete enough erythropoietin to make red blood cells. Besides, the accumulated waste reduces the lifespan of red blood cells. As a result, the amount of red blood cells decreases and anemia occurs. Anemia related to kidney failure means that the brain is not getting enough oxygen. This can lead to dizziness.
Dizziness may be caused by certain medications.
In order to calm down these symptoms, kidney patients have to take various medicines. For example, antihypertensives to lower blood pressure, steroids to reduce protein leakage, diuretics to relieve edema, etc. These medicines have many side effects if used for long-term. Dizziness may be one of them.
Sometimes, cold, flu, inadequate sleeping, malnutrition and some other factors can also cause dizziness. If you often have dizziness, you should attach importance and go to see the doctor. Dizziness is just one of the symptoms of kidney disease. If you want to have a better control of these symptoms, you should repair the damaged kidneys and improve kidney function. There is a set of natural treatment to recommend to you. It consists of Micro-Chinese Medicine Osmotherapy, Foot Bath, Mai Kang and decoction. They can dilate blood vessels and remove stasis to increase blood flow into the kidneys. They can also eliminate the inflammatory factors from the blood to relieve kidney inflammation. Moreover, they can set up a good blood environment for kidney self-healing. With comprehensive treatment, your kidneys regain their ability and then you can get rid of these symptoms.
Dizziness sometimes is so slight that people ignore it. This is wrong. When you are diagnosed with kidney disease, you should pay attention to every change of your body and take measures as early as possible. Only in this way can you protect your kidneys well.