Can You Send Me A List Of Herbs That Can Reduce High BUN Levels
2014-10-28 10:39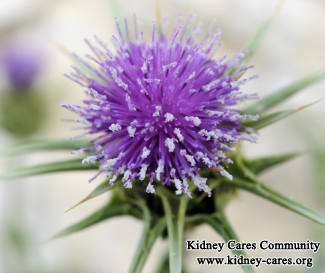 High Blood Urea Nitrogen (BUN) is one result of waste products depositing in the blood. Then, high urea level are more likely to cause some complications such as less urine output, feeling dehydrated, metabolic acidosis, renal anemia, electrolyte imbalance, nausea, vomiting and many other problems. Therefore, the treatment should be able to either reduce the formation or increase kidney filtration rate.
To reduce high BUN levels, diuretic herbs may do some help, as they can increase urination and many toxins and wastes will be discharged out of body with urine. These herbs are used to treat many diseases and most of the time they do not have any side-effect on the human body. Some of the diuretic herbs are as below:
1. Burdock
Burdock root is an effective diuretic and can remove some wastes like BUN and creatinine from the blood with urine. However, it should not be taken in conjunction with other diuretic medications, as they may lead to serious dehydration. It may also interact with other medications, such as anti-coagulants and non-steroidal anti-inflammatory drugs and increase risk of bleeding. In this condition, you should consult with your doctor before taking burdock as a diuretic.
2. Dandelion
All parts of the dandelion plant have diuretic properties, but the leaves are the most potent source. Dandelion, a natural herb, cleanses the liver and blood stream. It can reduce BUN to some extent.
3. Yarrow
It eliminates toxins and wastes as well as unwanted fluids present in the body via urination. Besides, the volatile oil of this herb has a strong inflammatory effect.
4. Micro-Chinese Medicine Osmotherapy
The above herbs only aim to relieve symptoms but cannot increase kidney filtration rate. BUN should have been discharged out of the body by kidneys. When kidneys are damaged, its function of filtering wastes will decline. In this condition, BUN will build up in the body , causing high BUN level. In order to lower BUN level, you should improve renal function and repair injured kidneys. Micro-Chinese Medicine Osmotherapy is such an therapy that focuses on repair impaired kidney lesions directly and improve renal function. As long as renal function is improved, its filtering rate will be increased. Thus BUN will be reduced effectively and radically.