Is It OK to Take Oxycodone for Pain with Stage 3 Kidney Disease
2014-10-08 03:46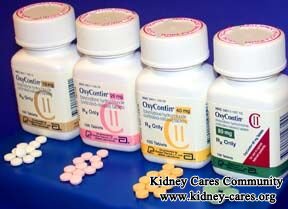 Kidney patients are often reminded to be careful to use medicine, because some medicine has renal toxicity and speed up the progression to kidney failure. Oxycodone is suitable for amelioration of mild-to-moderate pain. Is it OK to take oxycodone for pain with stage 3 kidney disease?
People with stage 3 kidney disease can eat low dose oxycodone.
Pain is common and associated with many of the complications of advanced CKD. For example, PKD, muscle cramp, back pain, restless leg syndrome, renal bone disease, infection, etc. Sometimes the pain is so severe that you have to take medicine to ease pain and then oxycodone comes into mind. As a matter of fact, low dose oxycodone can be used if GFR is more than 30. But you should monitor closely for side effects, such as drowsiness, hallucinations and confusion. If you have such side effects, you had better stop it. Moreover, take the medicine under the instruction of doctor.
Is there any other way to ease pain for people with stage 3 kidney disease?
According to the cause of pain, you should suit the remedy to the case. There are also some natural therapies for you to ease pain.
-Acupuncture
It is insert thin needles into the acupoints, which can dredge the channels and promote blood circulation so as to relive pain.
-Massage
Massage is also a good way to help you alleviate pain, because it has the same function with acupuncture.
All the pain is associated with kidney function impairment. If you can repair the damaged kidneys and then you can reduce the chance of pain. In our hospital, there is a set of therapies which is proved effective in treating kidney disease. It includes Micro-Chinese Medicine Osmotherapy, Foot Bath, Mai Kang and decoction. They can improve blood circulation, eliminate kidney inflammation and degrade extracellular matrix as well as activate recovery. After systemic treatment, you can regain the health.
There is still 50% possibility for you to reverse the disease with stage 3 kidney disease. Please grab the chance to bring it under control, or it may develop to the next stage.