Is Stomach Bloating A Sign Of Renal Insufficiency
2014-10-07 03:02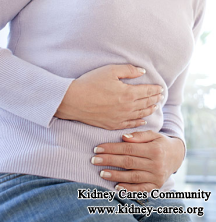 Is stomach bloating a sign of renal insufficiency? Insufficient kidney will cause many symptoms including edema, vomiting and diarrhea, dehydration, breathing difficulty, bloody stool and urinary symptoms, etc. Well then, is stomach bloating related to kidney insufficiency?
Stomach bloating is a symptom of declined kidney function. Here we introduce how does declined kidney function lead to stomach bloating.
1. Stomach bloating and water retention
Kidneys are bean-shaped organs. They serve as the filter house of our body, and are involved in filtering excess fluids. However, if kidneys are diseased, they fail to remove excessive water from the body. In this condition, much water or fluid will accumulate in the body, causing water retention. This can make you feel bloated in stomach. To alleviate this symptom, the diet itself should be able to low sodium induced bloating and swelling in the extremities. Healthy low salt diet is the only way to control water retention caused bloating. Among other natural ways to reduce water retention in the body is to take diuretic foods or herbs such as celery, parsley, green tea and dandelion.
2. Stomach bloating and constipation
Normally kidneys need to evacuate waste products from our Gl tract. When the kidneys have something wrong, waste will accumulate in the body. Thus, product wastes harden and become compacted. Needless to say those pounds of waste accumulating in the colon cause impaired digestion and stomach bloating. The best solution for bloated stomach and constipation is diet and lifestyle modifications. You can drink moderate amount of water along with consuming fresh and wholesome foods with high fiber.
In summary, bloated stomach is related to renal insufficiency. Of course, other causes can also lead to bloated stomach. Therefore, it is important to find out the cause firstly.