Reason and Solution to High Protein Discharge in Urine for Kidney Patients
2014-09-20 03:47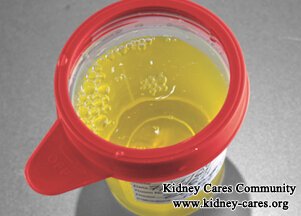 Proteinuria is a common complaint of kidney patients. If you do not take treatment as early as possible, it may make medical conditions worse. First we should know the causes of proteinuria and then take corresponding measures. In this article, let's have a look at the reason and solution to high protein discharge in urine for kidney patients.
Reason of high protein discharge
When blood flows into the kidneys, kidneys filter waste products, while retaining the useful substance in the body. When the filtration barrier of glomeruli is damaged, protein leaks from blood vessels into the urine. Besides, if the renal tubules are damaged, they can prevent protein from being reabsorbed, which can also lead to high protein leakage.
All in all, high protein discharge in urine results from the damaged kidneys. Many factors can give rise to kidney damage, such as high blood pressure, diabetes, infection, drug poisoning, etc. If your kidney disease is caused by these factors, you should control these factors first and then repair the damaged kidneys. If it is primary kidney disease, you should also repair the damaged kidneys.
Solution to high protein discharge in urine
-Steroids and other immunosuppressants
These medicine are often prescribed to inhibit kidney inflammation and decrease permeability of capillaries so as to reduce protein leakage. But treating chronic kidney disease is a long process. If used for long time, a lot of side effects will appear.
-Repair the damaged kidneys
In the long run, you had better choose some natural therapies. Because Traditional Chinese Medicine therapies seldom cause side effects if you use them under the instruction of doctors. They can draw out toxins from the blood, remove stasis and regulate the qi flowing in the channels so as to set up a good blood environment for kidney self-healing. They can also provide the kidneys with essential nutrients to speed up the recovery. When kidneys regain their ability, protein leakage will decrease until it disappear.
If you would like to know more information about our treatment, please leave a message or send emails to kidneycares@hotmail.com.
Our Treatment Effect
High creatinine level is dangerous to a kidney patient
Move the mouse to enlarge the picture
If you also want to reduce your high creatinine level, please look at this patient's report. When he was just hospitalized in our hospital on Dec 11, 2018,
His creatinine:1028umol/L,
urea: 39.7mmol/L
UA : 513umol/L
After a period of our treatment,
his creatinine:331umol/L, urea:16.1mmol/L
UA :325umol/L on Jan 5, 2019.
His condition was getting better and better. You can also get better.
For a CKD patient, you can choose Chinese medicine treatments to control your condition. your creatinine level can be reduced radically, symptoms can be alleviated and more importantly, your renal function will be improved. In this way, you can stay away from end stage kidney disease and avoid dialysis.
Say goodbye to dialysis