What To Do With Too Much Protein In Urine and CKD
2014-09-13 07:26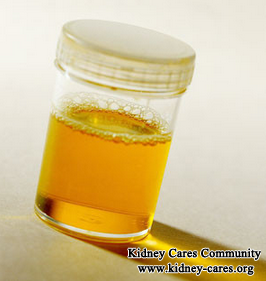 CKD(Chronic Kidney Disease) is the major cause for too much protein in urine. And usually, the more protein in urine, the serious the CKD. Tight control of proteinuria is very helpful for the tight control of kidney problem. Well what can we do with too much protein in urine associated with kidney problem?
1. Limit your protein intake
When kidneys fail to preserve protein in the body, eating too much protein will add extra burden on kidney, which is not good for patient's recovery. Therefore, adjusting protein intake is very important. How much protein is needed depends on GFR and the severity of proteinuria. Here, you can consult our online doctor for help to calculate how much protein is needed a day.
2. Instead of vegetable protein, animal protein is recommended
Compared with vegetable protein, animal protein should be more helpful for CKD patients. Animal protein contains high quality protein which can provide our body with necessary nutrient and meanwhile produce less wastes that need to be removed out of the body by kidney. In our daily diet, animal protein refers to fish, lean meat, egg white, etc.
3. Tight control of high blood pressure
There are lots of blood vessels in our kidney. Persistent high blood pressure damage vascular wall, which can lead to further deterioration of kidney condition and finally aggravate proteinuria. Therefore, to reduce protein in urine, hypotensive drugs for high blood pressure are also needed.
4. Repairing of injured kidney intrinsic cells
Kidneys filter blood through glomerular filtration membrane. For CKD patients, they have too much protein in urine, because this filtration membrane is damaged. Under such a condition, protein leak into urine while flowing through kidney with blood. Therefore, repairing injured glomerular filtration membrane is very important for the tight control of proteinuria. Also, it is the most crucial step to reduce protein in urine. Micro-Chinese Medicine Osmotherapy is the treatment recommended to help CKD patients repair injured filtration membrane.