Can Kidney Disease Cause Nerve Numbness
2014-09-12 07:19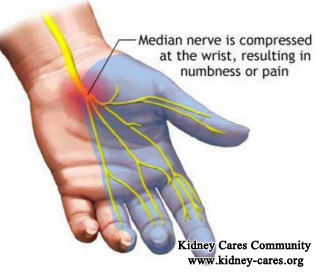 Kidney disease can cause many physical discomforts like nausea, vomiting, skin itching, tiredness, back pain and dizziness, but can it cause nerve numbness? If yes, how is it linked with nerve problem?
Can kidney disease cause nerve numbness?
kidney disease can cause nerve numbness and this problem is especially common in uremia stage. Kidney works as a filter in our body. When blood flow through kidney, toxic substances are removed through urine, so kidney plays an important role for blood to be clean. When kidney is damaged for some reason, kidney function declines. Under such a condition, blood can not be purified timely. Toxic substances build up in the blood and they may reach any part of our body with bloodstream.
High levels of toxins in the blood is a very dangerous condition as these toxic substances can cause damage on our body. For an instance, they may damage digestive tract and thus cause symptoms like nausea, vomiting and even vomiting blood.
Kidney disease indeed causes nerve numbness which usually appears when nerve system is affected by the toxins. For kidney disease patients who have nerve damage, besides nerve numbness they may also experience poor concentration, poor memory, insomia, delirium, etc.
What to do when nerve numbness is caused by kidney disease?
Kidney disease suffer from nerve numbness because of nerve damage caused by toxins in the blood. Under such a condition, cleansing blood is very important to prevent further deterioration of illness. The followings are the several treatment methods can be applied by patients in such a case:
1. Dialysis: dialysis is the most direct and also quick way to purify blood. With dialysis, toxins in the blood can be removed within several hours. Therefore, dialysis is a treatment option.
2. Blood pollution therapy: Blood Pollution Therapy is also a way to purify blood. This treatment is totally different from dialysis, because it not only helps to purify blood, but also helps to improve kidney function, which means kidney disease patients can get off dialysis successfully after the treatment.
3. Plasma exchange: plasma exchange is also a blood purification method. It is more effective and expensive than dialysis.
Lastly, nerve numbness is just a symptom of kidney disease and if we really want to get this symptom treated fundamentally, treating kidney disease to improve kidney function is necessary.