Can Kidney Function Problem Cause Itching
2014-08-24 01:36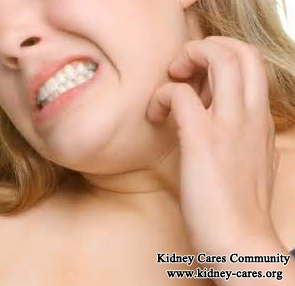 Itch is an irritation in the skin that elicits an urge to scratch. Sometimes, itching may be worse at night. As we all know, when kidney function declines, many symptoms will occur. As for people with kidney disease, they start to have skin problems. So they wonder if kidney function problem can cause itchy skin. The following article will tell you whether there is relation between kidney function and skin itch.
In fact, kidney function problem indeed is one of the factors of itchy skin. This is because kidneys work to remove wastes from the bloodstream. When the kidneys fail, the buildup of wastes in your body can cause severe itching. Kidney dysfunction is the root cause of itchy skin in those who suffer from kidney disease. The following will explain it in all details.
1. The causes of itchy skin
High phosphorus level in your body
When kidneys are damaged, they fail to balance electrolytes, easily causing high phosphorus level. High levels of phosphorus can cause itching.
Since dialysis does not effectively remove phosphorus from the blood, it does not remove some of it as well as other wastes and toxins.
Allergies
Dialysis is always recommended to remove toxins and wastes from the body. At the beginning of dialysis treatment, you could have an allergy to the blood tubing, dialyzer, the type of heparin being used or other elements associated with the treatment.
2. How to treat skin itchy?
Dialysis
Dialysis is one way to remove wastes from the body, while it cannot remove all wastes. Thus, people still can feel itchy skin. In view of this, dialysis is not the ideal way for itchy skin.
Diet management
Avoid high phosphorus foods such as milk, cheese, yogurt, ice cream, avocado, corn, peas, processed meats such as hot dogs, sausage, pizza, nuts, seeds and organ meats. There are more high phosphorus foods you should avoid. If you want to know more high phosphorus food, you can leave us a message to kidneycares@hotmail.com or consult our online doctor directly.
Improve kidney function
Improving kidney function is the root solution for itchy skin. Have you ever heard of Micro-Chinese Medicine Osmotherapy? It is a kind of Chinese herbal medicine treatment. The active ingredients can come to the kidney lesion directly with the help of osmosis device. It helps repair damaged kidneys and improve kidney function. As long as kidney's self-healing ability is elevated, it can remove wastes and toxins from the blood. Therefore, itchy skin is relieved radically.