Can Proteinuria In CKD Be Treated
2014-07-31 08:21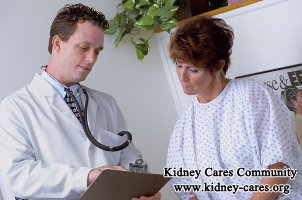 Proteinuria is a clinical manifestation of Chronic Kidney Disease and the amount of protein in urine reflects the severity of kidney problem. In general, the more protein in urine, the poorer the kidney condition. Alleviation of proteinuria may indicate remission of kidney condition. So as a symptom of CKD, can proteinuria be treated? How to treat proteinuria caused by CKD?
Proteinuria refers to the presence of excess protein in urine. In normal condition, these proteins are preserved in the body while flowing through kidney with blood. However, in cases of CKD, kidney tissues are injure and kidneys can not work as well as they did before. Under such a condition, while protein get into kidney through blood, they are leaked into urine. Consequently, proteinuria is formed.
Proteinuria appears due to kidney damages, so when kidney damages are repaired, protein in urine is reduced naturally. In medicine, many medicines can be applied to deal with proteinuria such as hypotensive drugs, prednisone, cyclophosphamide and cellcept in CKD. These medicines work fast, but long-term usage of them always cause many side effects which are especially harmful for children with CKD. Proteinuria needs to be brought under control quickly, as timely control of it will slow down illness progression. but for these whose illness condition has been stabilized, they can try Micro-Chinese Medicine Osmotherapy which is a treatment based on herbs.
Micro-Chinese Medicine Osmotherapy treats proteinuria by performing functions of anti-inflammation, anti-coagulation, dilation of blood vessels and degradation of extracellular matrix. By these effects, kidney function can be improved. We know protein leak into urine due to impairment of kidney function, so when kidney function is improved, proteinuria is alleviated naturally.
Besides, to get proteinuria controlled well, CKD patients also need to adjust their protein intake. As kidneys can not preserve all the protein in the body while blood flowing through their kidney, so the more protein they ingest everyday, the more protein leak into urine. How much protein is needed by CKD patients depends on their kidney condition. Here we offer online service, and if you have any questions about it, please feel free to consult our online doctor directly.