Does Chronic Kidney Disease Make You Gain Weight
2014-07-18 07:48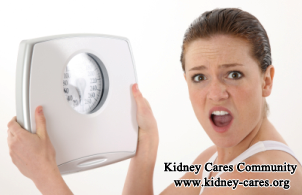 Chronic Kidney Disease (CKD) can make you gain weight. Obesity is one of the leading causes of kidney disease, but having the disease itself can be a factor in weight problems. If you have kidney disease, you are more likely to become fat than before.
The following are factors of weight gain in CKD.
1. Fluid retention
One of the side effects of kidney disease is fluid retention, also called edema or swelling. A norma kidney naturally discharge water, salt and excess fluids from our bodies on a regular basis, but an unhealthy kidney is much more slow at this process. In this case, excess fluid or water will accumulate in your body, causing fluid retention. Thus, weight gain occurs from retained water. Normally this weight gain and puffiness can be seen in certain areas of the body such as face, hands, belly, legs, ankles and feet. With the development of kidney disease, this water retention can cause additional problems. To prevent this, you should avoid or limit some foods and fluids to help put less of a burden on the kidneys.
2. Medications
Medications knowns to increase your chances for unwanted weight gain include anti-inflammatory corticosteroids, cyproheptadine and tranquilizers. Kidney disease patients usually take various medications and these medications are more likely to make patients gain weight.
The above are two common causes of weight gain in kidney disease. Apart from weight gain, kidney disease can also lead to fluctuated weight and sudden weight loss.
Weight fluctuation
In the early stage of kidney disease, many people experience unexplained weight loss, but then they begin to eat an overabundance of certain foods in response to different cravings created by toxic buildup as the disease progresses. Because many toxins build up in the body, the body experiences many rapid and ongoing changes so as to readjust and remain healthy. Fluid retention makes you gain weight, but loss of appetite and lack of energy make you loss weight as well.
Sudden weight loss
Declined kidney function affects how your body is able to filter wastes and maintain calcium and potassium balance. And your body may not be able to digest foods properly. This can cause weight loss and inability to fully absorb nutrients from food.
Weight problem is only one of symptoms in kidney disease and you should not neglect it. The radical solution is to repair your damaged kidney and improve your kidney function. If you want to know how to improve kidney function, you can leave a message to kidneycares@hotmail.com or consult our online doctor directly.