CKD And Digestive Symptoms
2014-07-10 07:41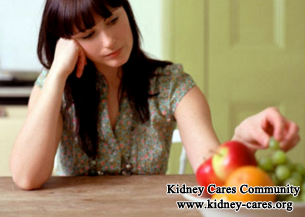 CKD in early stage causes no physical discomforts, but when it develops to advanced stage, various symptoms will be caused. Digestive symptom is a common complain among CKD patients and due to it, patients may fail to get necessary nutrition from daily diet. Therefore, finding out how digestive is caused by CKD and then take measures on the basis of it is very necessary.
Digestive symptoms caused by CKD
In cases of CKD, the most common digestive symptoms include poor appetite, nausea, vomiting, vomiting of blood and diarrhea which are usually resulted from:
1. Buildup of toxins in the blood
Urea nitrogen is a substance that needs to be excreted out of the body through kidney. Once being affected by CKD, lots of urea nitrogen will buid up in the blood. Ammonia can be produced when urea nitrogen is decomposed in the body. It stimulates digestive tract, leading to a series of digestive symptoms.
2. Metabolic acidosis
Metabolic acidosis is another possible cause for CKD patients to experience digestive symptoms. In normal cases, acid products like phosphoric acid and sulfuric acid should be removed out of the body through kidney. However, when kidney function is impaired due to CKD, these substances build up in the body, which may cause digestive symptoms like poor appetite, vomiting and some other symptoms like tirednees and deep breath.
How to deal with digestive symptoms associated with CKD?
In cases of CKD, appearance of digestive symptoms appear due to accumulation of some wastes and toxic substances. These harmful substances should not stay in the body and they can be successfully removed through kidney. However, due to CKD, they can not be excreted timely. Consequently, digestive system is affected and various digestive symptoms appear. Under such a condition, if we want to get digestive symptoms are alleviated or removed successfully, we must protect digestive system from being affected by removing harmful substances out of the body.
Blood purification technics like hemodialysis, plasma exchange and immune adsorbtion can be applied to cleanse blood, but their treatment effects are temporary. Besides blood purification technics, Micro-Chinese Medicine Osmotherapy is another option for CKD patients to purify blood. Micro-Chinese Medicine Osmotherapy is a herbal treatment which cleanse blood by improving kidney function. As long as kidney function is improved, toxins in the blood will be timely removed. Consequently, digestive symptoms are alleviated naturally and permanently.