Can Chronic Kidney Disease (CKD) Cause Joint Pain
2014-06-28 08:01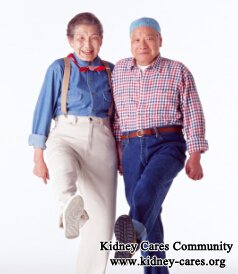 Chronic Kidney Disease (CKD) can cause many symptoms, such as edema, high blood pressure and anemia. Can CKD cause joint pain? The answer is certain. Joint pain is also a common symptom of CKD.
Now let's see how CKD causes joint pain first.
It is widely acknowledged that kidney plays an important role in balancing the body. When the kidney function declines, it can not filter the waste and excess fluid from the blood. As a result, waste and fluid build up in the blood.
-Joint pain may be associated with the accumulation of uric acid. Excess uric acid becomes urate crystal. And then they may deposit in the joints so as to cause joint pain.
-Joint pain may be also related with calcium deficiency. Because the damaged kidney can not produce enough vitamin D so as to affect the absorption to the calcium so that bones become brittle, leading to joint pain. Besides, too much phosphorus in the blood can also cause calcium deficiency.
-CKD patients have to take many medicines to eliminate their symptoms. But these medicines always have many side effects, one of which is joint pain.
How to treat joint pain caused by CKD?
According to the different causes, you should take different measures to relieve the joint pain. In the daily, you should limit the intake of certain food, such as meat and nuts. Because meat is high in uric acid and nut is rich in phosphorus. Besides diet, you should pay attention to supplement vitamin D. Some medicines are also often used to lower the uric acid and phosphorus level in the body, such as phosphorus binder and allopurinol.
As a matter as fact, only improving kidney function can you reduce the symptoms caused by CKD. In our hospital, we have many natural remedies, such as Micro-Chinese Medicine Osmotherapy, Moxibustion, Circle therapy and so on.
Space limited, we can not give the detailed information about diet and treatment, but they can be acquired from the online doctor.