Treatment for Renal Hypertension
2014-06-28 06:16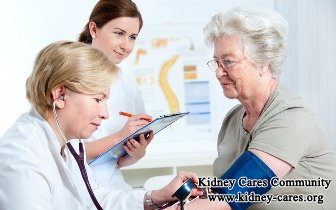 Hypertension is a common symptom of kidney failure. If you can not bring it under control, it can not only affect your kidney function, but also cause damage to your heart. Heart disease is the major cause of death for kidney patients. Therefore, it is necessary for you to know what is the treatment for renal hypertension.
Conventional treatment for renal hypertension
The conventional treatment is to take medicine to lower blood pressure. For example, ACE inhibitors prevent an enzyme in your body from producing angiotensin II, a substance that affects your cardiovascular system by narrowing your blood vessels and releasing hormones that can raise your blood pressure. ARBs also block the action of angiotensin II so as to allow blood vessels to widen. Diuretics are also often used to lower blood pressure by increasing the fluid discharge from body.
These medications are effective, but they have side effects if used for long time. And they can not solve the problem from the root. Once you stop the medicine or reduce the dosage, blood pressure increases again.
Alternatives for renal hypertension
There are Chinese medicine and therapies for renal hypertension. They can dilate blood vessels to reduce blood pressure, such as Micro-Chinese Medicine Osmotherapy. Besides, this therapy can inhibit kidney inflammation to prevent kidney damage. It can also block blood clotting to ensure a good blood environement. In addition, this therapy can degrade extracellular matrix to stop kidney fibrosis. With Micro-Chinese Medicine Osmotherapy, your damaged kidneys can gradually regain their ability to control blood pressure.
Home remedies for renal hypertension
In diet, you should limit the intake of salt and water and control the intake of fat. Doing exercises is also helpful in lowering blood pressure. Besides, you should keep your mood stable.
If you would like more information, please contact online doctor or leave a message below.