CKD Stage 5 And Changes In Skin Color:Causes And Management
2014-06-26 02:35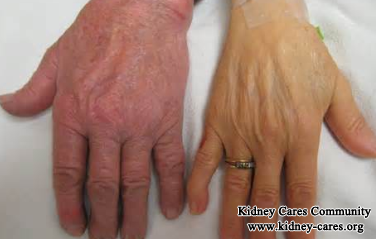 Stage 5 Chronic Kidney Disease (CKD) indicates that the kidneys have lost nearly all their ability to do their job effectively. With poor kidney function, a series symptoms will occur. Skin problem is one of them. Here we will tell you the causes and management of skin color problem.
What is the skin color and what causes the color changes?
The skin color in stage 5 CKD may be pale or yellow.
Pale skin
Patients with CKD stage 5 often have very pale skin. This may be due to anemia or insufficient iron in the blood. The damaged kidneys fail to produce a hormone called erythropoietin (EPO) which can stimulate bone marrow to produce red blood cells, thus leading to anemia. With anemia, patients usually have pale skins.
Yellow skin
Yellow skin may become very obvious in stage 5 kidney disease. In this stage, there are many urochromes depositing in the skin which cannot be removed from the body by kidneys.
Although skin problem is just a symptom of stage 5 chronic kidney disease, if left untreated, it can even affect the patient's normal daily life.

Therefore, treatment is needed.
From the analysis of skin problem causes, we can see the root problem is the damaged kidneys and declined kidney function. In this light, we recommend Chinese herbal medicine therapy to improve kidney function. Chinese medicine treatment does not simply refer to Chinese herbal medicine. It also include Micro-Chinese Medicine Osmotherapy, Medicated Bath, Feet Bath, Enema, MaiKang and other unique Chinese therapies. Chinese medicine shows slow therapeutic effects but they can help promote blood circulation and enhance the body's metabolism so as to promote the discharge of wastes from the body. In addition, Micro-Chinese Medicine Osmotherapy and other Chinese medicines can provide necessary nutrients for repairing damaged kidney tissues and improving renal function.
As long as kidney function is elevated to a certain degree, anemia can be alleviated so that pale skin can be relieved greatly. Toxins and urochromes can be expelled from the body. In this case, yellow skin can be treated.