What Do Night Sweats Have To Do With Kidney Problems
2014-05-09 08:02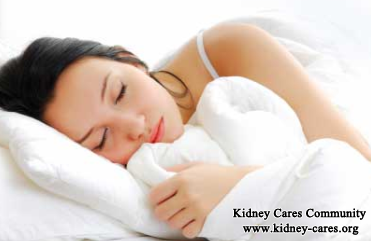 Are night sweat a symptom of kidney disease? Night sweat can be caused by certain medications, infections, sleep disorder and stroke, etc. All these are experienced by kidney disease people, so night sweat is also suffered by patients.
The following are some common factors of night sweats in kidney disease.
Night sweat and medications
Those with kidney disease often take various medications to control their underlying conditions like high blood pressure, swelling, anemia, nausea and vomiting as well as diabetes. Night sweats can be a common side effect of medications. For example, drugs that lower the level of sugar in your blood may be a cause of night sweat.
Night sweat and infection
Due to kidney disease, your immune system may be low. Bacteria and viruses may invade your body easily, leading to infection. Tuberculosis, endocarditis, abscesses are the common infections associated with night sweats.
Night sweats and pain, high blood pressure
Night sweats has been reported by people with pain and high blood pressure in kidney disease people.
Night sweats and hormone disorders
Deficient kidneys can affect various body systems. Also hormone system can be disordered. Phoochromocytoma is a rare adrenal gland tumor that produces norepinephrine and epinephrine. These hormones control blood pressure and heart rate, so increased production can cause increased heart rate, high blood pressure and night sweats. Furthermore, hyperthyroidism can cause night sweats because too much thyroid hormone is produced by the thyroid gland.
Kidney disease and other diseases like cancer and menopause can all cause night sweats. Understanding the causes of night sweats can help people seek medical treatment when night sweats are persistent and bothersome.