Are Painkillers Available For CKD
2014-04-15 03:19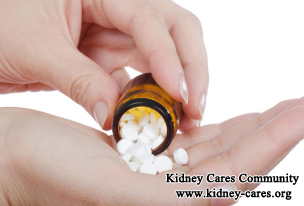 Pain killers may relieve your pain in chronic kidney disease(CKD) but may be harming a vital organ in your body: your kidneys. That is to say, pain killers are bad for kidneys. Even worse is those analgesics further reduce blood flow to the kidney when a person suffers from Chronic Kidney Disease.
How can use of analgesics hurt kidneys?
If kidney disease patients take ibuprofen, naproxen sodium, and other higher dose aspirin for a long time, it can cause chronic interstitial nephritis. Because of this, over the counter(OTC) pain pills should not be used for more than 10 days and fever reducers for many than three days.
Additionally, analgesics and Non-Steroidal Anti-Inflammatory drugs (NSAIDs) contribute to gastrointestinal bleeding and stomach ulcers. Also NSAIDs use can increase the risk of heart attack and stroke.
Patients with reduced kidney functions are not recommended to take higher dose aspirin and NSAIDs. If necessary, kidney patients should take NSAIDs under a doctor's care. NSAIDs also have side effects for people with heart disease, liver disease, high blood pressure and those over 65. These pills will increase the risk for kidney failure and cause progressive kidney damage.
Kidney patients can take acetaminophen. Aspirin is not allowed as it is a blood thinner drug and may cause bleeding complications.
Others should be drew your attention. For example, drink at least 8 glasses of fluids when taking analgesics, and avoid drinking alcohol. Analgesics with a mixture of painkillers and caffeine in one pill should be avoided. These can lead to kidney damage drastically.
In summary, chronic kidney disease are not recommended to use painkillers for a long time. If necessary, you must take them as prescribed by your doctor. Any unclear or doubt about this article, you can leave your message to kidneycares@hotmail.com or consult our online experts directly.