How to Treat Pain Caused by Kidney Infection
2014-03-04 11:51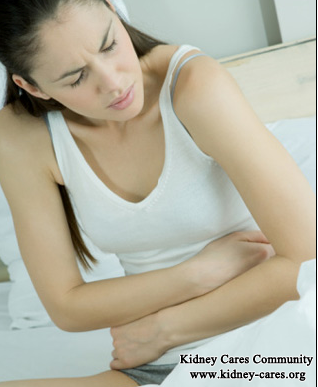 If patients with kidney problems have kidney infection, severe pain will occur in the whole abdomen. Many patients with kidney infection complain that pain in abdomen torture them very much. They want to know how to alleviate pain caused by infection. In light of this problem, we will make some useful suggestions for patients with kidney infection.
How is pain caused by kidney infection?
Prior to the point, we should understand how it happen.
Pain is a very common symptom of kidney infection. As kidney is located in lower back, pain mostly occurs in the lower back. If patients with kidney infection press lower back, pain is aggravated. Besides, kidney infection can have bad effects on bladder and urethra, leading to frequent urination and a strong urge to urinate. Thus, patients will feel painful when urinating. If untreated, kidney infection can make kidney damaged severely. What is more, because kidney plays a very important role in filtering the blood and kidney infection leads to many bacterium in kidney, these bacterium can spread to the blood circulation, affecting other parts of body.
Apart from pain, kidney infection can cause many other symptoms, for instance, high fever, nausea, vomiting,blood in the urine, etc.
How to treat pain caused by kidney infection?
In general, taking antibiotics and painkillers can alleviate pain caused by kidney infection. However, some medicines may produce side effects, which does harm to kidney. So patients with kidney infection should take these medicines after listening to doctors'advice.
Apart from medical treatment, patients with kidney infection should also pay attention to diet in daily life. They can drink more water and cranberry juice, which contributes to alleviating pain. And eating more food rich in vitamin C.
Finally, patients with kidney infection should have a good rest in daily life.
In addition, the fundamental problem is kidney infection, so patients should focus on kidney infection. Chinese medicines have good properties of treating kidney infection. Ingredients of Chinese medicines is anti-inflammatory, preventing further kidney infection. And Chinese medicines have good effects on repairing kidney damage, which can alleviate kidney infection.