Vitamin D3 Help Treat Kidney Bone Problems
2014-02-28 11:36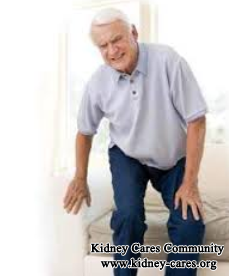 Bone problems, like bone pain, bone fracture and osteoporosis, are common symptoms or complications of kidney disease. Due to these problems, some patients can not standing up or walk by themselves. They become very irritated and get mad at anybody. Thus, a solution to alleviate bone problems is very important to relieve their sufferings.
For alleviating bone problems, vitamin D3 is mostly acknowledged. Then how does vitamin D3 treat bone problems?
For answering the question, you should know what renal bone disease is caused by.
People with chronic kidney disease(CKD) find their bones get weaker and thinner-becoming painful or breaking more easily due to mineral loss. The following factors can lead to bone disease.
1. Damaged kidneys change the balance between two important minerals-calcium and phosphate. And damaged kidneys easily cause low calcium and high phosphorus level. In this condition, you tend to find your bones get weaker and thinner.
2. Parathyroid glands which are responsible for regulating calcium in your body become too active.
From the above, one is to regulate calcium and phosphorus, and the other is to decrease the parathyroid level in blood. Vitamin D3 serves these function effectively.
How does vitamin D3 treat bone diseases?
The main ingredient of vitamin D3 is alfacalcidol which is able to regulate the calcium and phosphate level in your blood. Besides, it can increase the intestinal tract absorption of calcium and phosphate so as to promote the bone mineralization and decrease parathyroid level as well as prevent bone calcium dissolving. In this way, kidney bone diseases can be alleviated to some extent. However, once you stop taking medicines or reduce the dosage, your bone diseases will relapse again. Thus, the fundamental treatment for bone diseases is to repair your damaged kidney tissues and improve your kidney function. Improved kidney function can work to regulate calcium and phosphorus so that renal bone disease can be alleviated from the root.
In a word, vitamin D3 can only alleviate bone diseases but fail to radically treat it. The radical way needs to repair kidney damage and improve kidney function.