What Is The Pathophysiology Of Edema In Chronic Kidney Disease
2014-02-28 09:17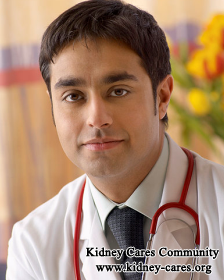 It is known that edema or swelling is often to be seen in chronic kidney disease patients. As the disease progresses, pulmonary edema is likely to occur, which can be life-threatening. Then why does edema occur in patients with kidney disease?
Edema forms in patients with kidney disease for two reasons. One is a heavy loos of protein in the urine. The other is impaired kidney function. And I will analyze the reason respectively.
1. Heavy loss of protein in the urine
The heavy loss of protein in the urine along with edema is defined as nephrotic syndrome. Nephrotic syndrome leads to a reduction in the concentration of albumin in the blood. As albumin is responsible for maintaining blood volume in the blood vessels, a reduction of fluid in the blood vessels may appear. In this condition, kidneys register that there is depletion of blood volume, so they attempt to retain salt. As a result, fluid will move into the interstitial space, thus causing pitting edema.
For the treatment of this fluid retention, reducing the loss of protein in the urine and restricting salt in the diet is necessary. For reducing the loss of protein in urine, you can take some medications like ACE inhibitors and angiotensin receptor blockers. These drugs, originally used to decrease high blood pressure, promote the kidneys to reduce the loss of protein in the urine.
2. Impaired kidney function
Patients with impaired kidney function easily develop edema because of kidneys' disability to excrete sodium in the urine. Thus, patients with kidney disease will develop edema if their sodium intake exceeds the ability of their kidneys to excrete the sodium. The more severe the kidney disease, the greater problem of salt retention is likely to become.
Dialysis is one of the way of filtering excess water or fluid out of the blood, alleviating edema. However, dialysis is certainly to cause some adverse effects like low blood pressure, headache, itchy skin, infection, vomiting and nausea. In this light, dialysis is not accepted by some patients, and patients would like to find a natural therapy to alleviate edema and improve kidney function. Immunotherapy is recommended for kidney disease patients. It is a combination of western medicines and Chinese medicines. Western medicines have quick effects on alleviating swelling, but fail to repair damaged kidney tissues and improve kidney function. Chinese medicines can avoid this disadvantage and have an outstanding effects on improving kidney function. As long as your kidney function is improved, edema will be alleviated naturally.
Knowing the causes and management of edema in kidney disease contributes to slowing the progression into kidney failure.