Why Do Kidney Failure Patients With High Blood Pressure Need Drop Weight
2014-02-23 14:53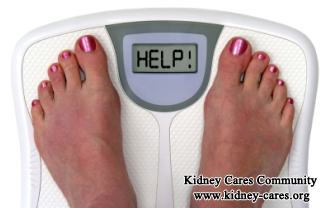 Weight loss can affect your kidneys. If you have already have kidney disease, you doctor may suggest you to gain weight or avoid losing weight. But if people have conditions which can threaten kidneys like high blood pressure, dropping weight is needed.
As we have just mentioned above, high blood pressure is a threatening factor of kidney damage. If left untreated, high blood pressure is likely to cause further kidney damage and even speed up the process into kidney failure. Thus, kidney failure patients with high blood pressure need to lose weight. That is to say, losing weight is a key component of blood pressure control, which in turn may stem the progression of kidney disease.
However, losing weight is not always good for kidney failure patients, and it also causes some disadvantages and sometimes can be dangerous for kidney disease patients. An unhealthy reduction in calories and essential nutrients occurs because the condition decreases your appetite. Besides, you are told to restrict more foods, which further affect calorie intake. We know adequate calorie intake is crucial for kidney patients to meet their energy need in daily life, as well as to under dialysis or surgery. In many cases, kidney disease patients either need to gain weight or lose weight, because both weight gain and weight loss put you at risk of developing kidney stones.
Kidney failure patients with high blood pressure need to lose weight, which has a significance in stemming the process of kidney disease. However, you should know dropping weight also bring some adverse advantages, and ask what you can do to decrease the chances of developing kidney stones.