Leg Cramp in Kidney Problem
2013-10-03 14:39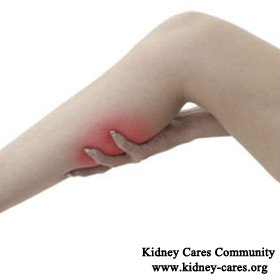 Leg cramp is a common complaint in kidney problem.In serious case,it can make the patients very painful and even unable to walk.Why do patients with kidney problem suffer from leg cramp?
Causes of leg cramp in kidney problem
There is a number of attributable causes of leg cramp in kidney problem.Knowing these causes can help the patients manage the condition effectively.Any question? Chat with our online doctor for an answer now!
Electrolyte imbalance
Kidneys play a vital role in keeping the balance of different minerals in body like sodium,potassium,phosphorus etc. However,in kidney problem,as the kidneys fail to work properly, the kidneys can not perform the functions normally to keep the levels of different minerals at the standard level.Low blood calcium and low potassium levels can contribute to leg cramp in kidney problem.
Adverse effects of medicines
A variety of medicines will be prescribed to treat kidney problem.Leg cramp can be an adverse effect of medicines. Diuretics are commonly used to treat edema in kidney disease and it may cause leg cramp to occur if used improperly.ACE inhibitor is commonly used to treat high blood pressure. However,it may cause extra potassium to accumulate in body, which may give rise to leg cramp.If you have this problem, you should speak to our online doctor and he/she can help you analyze if it is related to any medications.
Acidosis
Acidosis can occur in kidney problem and it refers to increased acidity in the blood and other tissues in body.It also can cause leg cramp in kidney problem.
Tips to manage leg cramp in kidney problem
Firstly,it is important for the patients to figure out the specific cause and then take right ways to deal with it.
If leg cramp is associated with electrolyte imbalance,the patients should adjust the mineral supply to reverse the imbalance.
You can do regular stretching exercise,which may help relieve leg cramp during nighttime.Stretching exercise should be done before going to bed.
The above are the causes and ways to manage leg cramp in kidney problem. For more information about the condition, you can email to kidneycares@hotmail.com .