Can Kidney Problem Cause Headache And Memory Problem
2013-09-15 09:28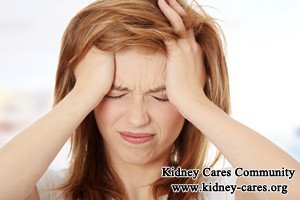 Kidneys are a pair of vital organs in body.One of the most important functions is to filter out wastes and extra fluid from body. Kidney problem can give rise to a myriad of problems, in which headache and memory problem commonly occur.
Headache in kidney problem
Renal hypertension is the most important cause of headache in kidney problem.As kidney tissues are impaired,it will result in renal ischemia and anoxia.When the kidneys can not get adequate oxygen and blood, more renin will be made, thus giving rise to high blood pressure.Another cause of high blood pressure in kidney problem is retention of fluid in body.
Anemia can also contribute to headache in kidney problem.It occurs as the diseased kidneys fail to produce EPO, a hormone which can stimulate the bone marrow to make red blood cells.
How to treat headache and make the patients live a comfortable life? Chat with our online doctor for suggestions now!
Memory problem in kidney problem
Healthy kidneys can remove extra fluids and wastes from blood. Urea is the byproduct of proteins and it is filtered out of body by kidneys in right condition. If kidneys are not functioning well, high levels of urea will build up in blood.Urea is toxic to the body and can affect all the major organs including the brain and nervous system,thus giving rise to memory problem.Symptoms usually only occur until kidney function falls to less than 10% of normal.
Memory problem can occur among the patients on Dialysis. If wastes and fluid are removed from body too quickly during dialysis treatment, fluid in body may enter into brain, thus resulting in brain problem. Memory problem can result from brain problem.
Memory problem and headache are very frustrating complaints for people with kidney problem.Also,they may relate to very dangerous conditions.Therefore, it is important for the patients to treat them effectively and aggressively.