Headache And Dizziness in Chronic Kidney Disease (CKD)
2013-09-04 17:04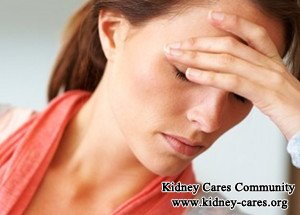 Headache and dizziness are common complaints in chronic kidney disease (CKD).They can make the patients feel very discomfortable and even affect their normal life. How to relieve them is a concerned issue for the patients.
Causes of headache and dizziness in CKD
Headache in CKD can be attributed to a number of causes, as follows:
High blood pressure
High blood pressure is a common complication of CKD.It is due to retention of fluid in body and increased production of renin by kidneys.High blood pressure is an important cause of headache and dizziness in CKD and also can accelerate renal function significantly.
Sleep disorder
Sleep disorders commonly occur in CKD.Sleep apnea syndrome,shortness of breath,restless leg syndrome, muscle cramps,etc can affect the sleep quality significantly. If the patients can not get enough high-quality sleep,they may experience headache.Also,dizziness may occur.
Uremic toxins
Uremic toxins can build up in body if the kidneys fail to work properly to filter blood. In serious case, uremic toxins even can build up in brain. Also, if excessive fluid builds up in body, it can cause cerebral edema.Uremic toxins and fluid in brain can cause headache and dizziness in CKD.Also,these two conditions are very dangerous and even life-threatening.
Dialysis side effect
If CKD patients are on dialysis, headache and dizziness can be a side effect of dialysis treatment. Dialysis is very likely to cause disequilibrium syndrome and low blood pressure, thus resulting in headache and dizziness.
Anemia
Anemia is a common complication of CKD.It occurs as the kidneys fail to produce a hormone,called EPO which can stimulate the production of red blood cells in body.Other causes of anemia may be low level of iron, inadequate folic acid. As red blood cells can carry oxygen to brain tissues, inadequate oxygen supply to brain can give rise to headache and dizziness.
The above are the possible causes of headache and dizziness in CKD. If you want to learn about how to relieve them, you can chat with our online doctor here now!