Does Back Pain Always Mean Kidney Disease
2013-08-20 17:36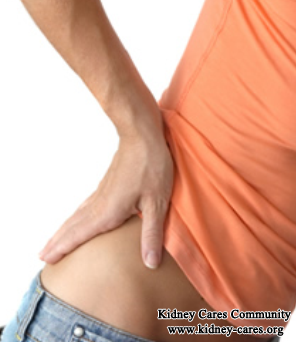 Patients with kidney disease always say they have back pain or flank pain. Back pain is a common symptoms in kidney disease patients. However, does all back pain mean patients have kidney disease?
Back pain or flank pain does not always mean patients have kidney disease, because many other diseases can cause also back or flank pain.
1. Motor system disease
Lumbar muscle degeneration
Those work long periods standing, which causes decrease of the waist tendon and ligaments stretch ability. Thus, excessive lactate partly will accumulate partly, which limits the normal metabolism of waist tendon. The disorder of waist tendon will cause lumbar muscle degeneration and further cause back pain. Besides, if one person always carries heavy goods bringing too much burden to waist. Waist burden easily causes scoliosis and lumbar muscle degeneration. In this case, back pain can also be caused.
Lumbar diseases
Fracture of lumbar vertebra and protrusion of intervertebral disc caused by trauma can also lead to back pain.
2. Pelvic organs diseases
Male prostatitis and prostatic cancer is also able to cause back or flank pain. And the back pain is always with frequent urine, urgent urination and difficult in urine. As for females, reproductive organ is at a high risk of getting infected, and these infections are easily along with back pain. Besides, when females are pregnant, the weight of womb begins increase with the growth of fetus so that the center of pregnant females' body is forward and at this time female's back is also forward. In this addition, pregnant females also have back pain.
3. Respiratory system diseases
Pleurisy, phthisis, lung cancer and other diseases can cause chest back pain. In severe cases, respiratory system diseases patients will have flank pain.
4. Back or flank pain caused by kidney disease
If back pain is not caused by trauma and has no relation with exercise, back pain is along with edema in face and lower legs. In this case, you should consider if the back pain is related to kidney disease. Besides, when back pain is more serious, the pain will spread to private parts through the ureter. And patients usually have frequent urine, urgent urine and urine pain. In this condition, patients' pain may be caused by urinary system infection, stones or tuberculosis.
In summary, back pain should be treated after detailed checkups and diagnosis of pathogenesis. You should not simply treat the symptoms, this is because inaccurate treatment not only delays the condition of patients but also medicines may accelerate the development of kidney disease if you really experience kidney disease. Therefore, as long as you have back pain, you should do detailed checkups to detect pathogenesis and then accept effective treatment.