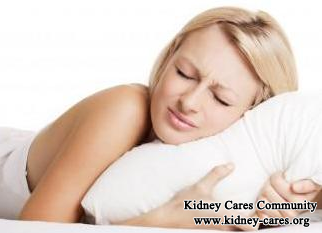 Will kidney disease cause sweating? Sweating is a normal phenomenon of our human body; however, in some cases, people may experience excess sweating, specially at night, due to some illnesses. Well then, can kidney disease cause sweating or not?
Kidney disease is a disorder in kidney and in many cases, it involve our another body systems and thus cause a series of abnormal symptoms. Sweating is a discomfortable symptom that might be caused by kidney disease. And for kidney disease patients they usually experience sweating in the following several conditions:
1.Thyroid problems
Thyroid problem is a common cause for kidney disease patients to experience excess sweating. Kidney disease is responsible for maintaining balance of electrolyte like sodium, potassium, phosphorus and calcium and so on. Low calcium level in blood can cause hyperparathyroidism, which can cause excessive sweating.
2. Low blood sugar
For people with Diabetic Nephropathy, a kind of kidney disease caused by Diabetes, they may experience excess sweating when their blood sugar is lower than the normal range due to high insulin injection. If this condition is left uncontrolled, diabetic coma will occur easily.
3. Medicines
With kidney disease in advanced stage, patients always need to take various medicines to deal with kidney problem or annoying symptoms. Under such a condition, sweating may occur as a side effect of a certain medicine.
4. Low blood pressure
For kidney disease patients, if their blood pressure becomes extremely low due to taking too much hypotensive drugs or some reasons, they may also experience sweating symptom.
5. Overweight
Kidney disease patients who are overweight, they also sweat easily.
The above are the several possible factors for kidney disease patients to experience excess sweating. If there is anything unclear or you need to learn information about how to deal with sweating in kidney disease, please feel free to consult our on-line doctors face to face or leave message to kidneycares@hotmail.com directly.