Does Chronic Kidney Disease Cause Stomach Bloating
2013-06-25 16:06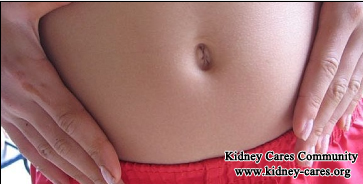 Does Chronic Kidney Disease cause stomach bloating? Stomach bloating can occur due to numerous reasons. For Chronic Kidney Disease patients, they indeed run a certain risk for this symptom, and it is always accompanied by many other clinical manifestations like high blood pressure, bubbly urine, fatigue and frequent urination at night, blood urine and puffy face and so on.
How does Chronic Kidney Disease cause stomach bloating ?
Chronic Kidney Disease is the generic term and refers to the progressive loss of kidney function. For people with Chronic Kidney Disease, stomach bloating occurs may due to the following two reasons:
1. Fluid retention
Fluid retention is one of the leading causes for Chronic Kidney Disease patients to suffer from stomach bloating. Fluid retention usually occurs in the body parts with loose tissues like eyelid, face, ankle, limbs and testis for male at the very beginning. However, with the progression of illness condition, this may spread to the whole body. Stomach bloating occurs when lots of fluid accumulate in the abdomen.
Polycystic Kidney Disease is another cause for stomach bloating. It is a genetic kidney problem and characterized by increasing fluid collection in kidneys. These fluid collection enlarge over time and if not treated timely, they will take up the whole kidney and even the whole enterocoelia, leading to stomach floating.
How to deal with bloating stomach associated with Chronic Kidney Disease?
For Chronic Kidney Disease patients with stomach bloating, it is necessary for them to found out the root cause and then take corresponding measures.
If stomach bloating is caused by fluid retention, limiting fluid intake and salt will be necessary. Also, if the illness condition is severe enough, blood purification technics will be needed to remove the excess fluid. Blood purification technics are helpful, but the treatment effects are temporary. To avoid reoccurrence of stomach bloating, improving kidney function is imperative.
Besides, if stomach bloating occurs due to Polycystic Kidney Disease, shrinking kidney cyst will be the key point. Surgery is a way for patients to remove big cysts in kidney. It is helpful, but can not solve problem radically. To get all the kidney cysts treated at one time, Micro-Chinese Medicine Osmotherapy is recommended. This treatment works by making pressure difference. We know fluid flow toward the side with low pressure, so when pressure outside the cyst gets lower than that inside the cyst, cystic fluid seep out and kidney cysts get shrunk. (See video regarding Micro-Chinese Medicine Osmotherapy).
Since Chronic Kidney Disease patients may experience stomach bloating due to different causes. It is necessary to found out the root cause and then take measures. The above is the introduction about stomach bloating in Chronic Kidney Disease, if there is anything unclear, please feel free to leave message to kidneycares@hotmail.com. Our experts will give a reply within 48 hours.
Get free online analysis for your illness condition here. Choose any of the following tools to start instant communication with our experts.
Leave Message
Leave your problem to us, we are here to help you with free charge!