Proper Exercise Can Do Some Help For Kidney Disease
2017-05-28 08:14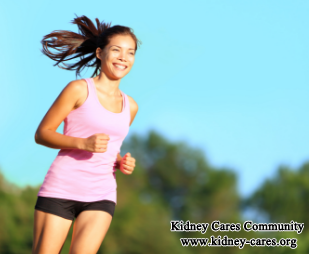 Life lies in movement. Proper exercise is good for the treatment and recovery in kidney patients. Some patients are afraid of being tired so they are lack of exercise. They are confined to bed rest and then suffer from depression. This is not helpful for illness recovery. On the contrary, you should face your disease and take some proper exercise like Taichi and walking.
A majority of kidney patients limit foods with high protein. There are some issues in nutrient supplement. For example, mental stress, economic pressure and poor appetite will make your body weak. This is easy to cause cold and gastrointestinal tract infection. Proper exercise can not only enhance your body resistance to disease and make you a good mood, but also improve your appetite which improves your malnutrition and muscle atrophy due to lack of protein.
Kidney disease can also lead to heart failure which is dangerous for patients especially when heart failure is associated with high blood pressure and anemia. One method to control blood pressure is to take exercise properly, which can make your body weight reduce so as to control your blood pressure better and strengthen your heart. Anemia can also be improved by exercise and heme can also be increased.
As for patients who take dialysis for a long time, the lack of vitamin D can lead to renal osteopathy. You can take outdoor exercise and enjoy a sunbath which can produce active vitamin D to improve renal osteopathy.
Skin itch is common in kidney failure patients. In order to relieve itchy skin, one is to take sufficient dialysis, take bath and avoid stimulating foods to your skin. The other is to take exercise properly. Exercise can make you sweat and promote your blood circulation. This has a positive role in preventing itchy skin.
Our Treatment Effect
High creatinine level is dangerous to a kidney patient
Move the mouse to enlarge the picture
If you also want to reduce your high creatinine level, please look at this patient's report. When he was just hospitalized in our hospital on Dec 11, 2018,
His creatinine:1028umol/L,
urea: 39.7mmol/L
UA : 513umol/L
After a period of our treatment,
his creatinine:331umol/L, urea:16.1mmol/L
UA :325umol/L on Jan 5, 2019.
His condition was getting better and better. You can also get better.
For a CKD patient, you can choose Chinese medicine treatments to control your condition. your creatinine level can be reduced radically, symptoms can be alleviated and more importantly, your renal function will be improved. In this way, you can stay away from end stage kidney disease and avoid dialysis.