Can A Chronic Kidney Disease Patient Get Pregnant
2015-05-04 08:18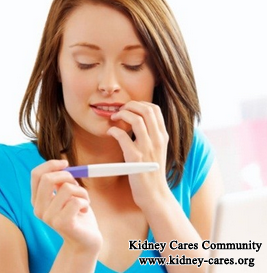 Can a Chronic Kidney Disease (CKD) patient get pregnant? For a patient with CKD, questions about pregnancy are often put forward.
Whether kidney disease patients can get pregnancy depends on many factors. As for the detailed information, please see the following content.
Can a dialysis person have a baby?
Usually not. Most women on dialysis do not have regular periods. The use of erythropoietin (EPO) has improved some women's overall health, which can increase the chance of pregnancy. If a patient becomes pregnant, she usually has a miscarriage. Only rarely has a dialysis patient been able to have a baby, and then only after increasing treatments, changes in diet and medications, and more frequent doctor visits. Pregnancy adds stress to the healthy body and can put the dialysis patient and the unborn child at greater risk.
Is it easier for a kidney transplant patient to become pregnancy than a dialysis patient?
Yes. A women who has had a kidney transplant usually has more regular periods and better general health. Thus, it is easier for her to get pregnant and have a child. However, pregnancy is not recommended for at least one year after the transplant, even with stable kidney function. In some cases, pregnancy is not recommended because of risk to the mother's life or possible loss of the transplant.
Can IgA Nephropathy patients get pregnant?
If IgA Nephropathy patients suffer from blood in urine, they are easy to experience high blood pressure during pregnancy. If they are pregnant, patients should take regular examination in hospital.
Is it possible for diabetic nephropathy patients to get pregnancy?
Pregnancy for Diabetic nephropathy women usually do not aggravate kidney disease but is easy to result in high blood pressure and pregnancy hypertension syndrome. What's worse, it is easy to cause fetal death. Therefore, diabetic nephropathy should be very cautious with pregnancy.
Whether a CKD patient get pregnant? It depends on various factors. If you want to have a baby, you can describe your medical conditions to kidneycares@hotmail.com or consult our online doctor directly. We will reply you as soon as possible.