How Would Other Body Systems Be Affected if the Kidneys Shut Down
2014-12-02 11:48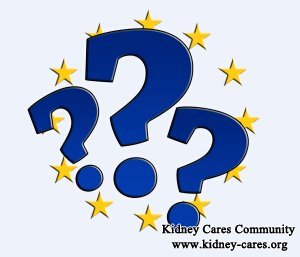 Kidney plays a very important role in maintaining the normal function of body. When your kidneys shut down, your whole body may be in a mess. Other body system will be affected as well. How would other body systems be affected if the kidneys shut down?
Blood system
When your kidneys shut down, they are not able to remove the waste products from the blood. Those accumulated waste slows down the blood flow. And then substances in blood easily deposit in the vessels, leading to stasis. Besides, those waste shortens the lifespan of red blood cells. And the damaged kidneys can not secrete EPO to stimulate bone marrows to make red blood cells. Thereby, the amount of red blood cells decreases, causing anemia.
Cardiovascular system
Cardiovascular disease is the common complication of kidney disease and the main cause of death. Besides blood pollution, the damaged kidneys can not regulate the blood pressure and pH. High blood pressure, acidosis, hyperkalemia, water and sodium retention, anemia and other toxins may be the contributor to heart failure.
Respiratory system
Some kidney patients complaint about metal taste in mouth. That is caused by urea in the blood. Besides, they may shortness of breath and deep breath. Besides, when calcium in blood is high, they may deposit in lung, leading to lung calcification.
Gastrointestinal tract system
When your gastrointestinal tract system is affected, you may have nausea, vomiting, diarrhea, poor appetite, etc. Those symptoms are also associated with urea. Because the urease in intestinal tract can make urea into ammonia, which may stimulate your stomach.
Neuromusclular system
The accumulated toxins may cause nerve cell degeneration. Electrolytes and acid-base balance is also in disorder. Besides, renal high blood pressure can make cerebral angiospasm. When neuromusclular system is affected, you have insomnia, muscle cramp, restless leg syndrome, illusion, etc.
From the above, we can see that when your kidneys shut down, almost your body system will be affected. Therefore, early treatment is needed to repair the damaged kidneys and improve kidney function. Only in this way can you reduce the damaged to your body.