How Does CKD Change Your Life
2014-09-02 01:51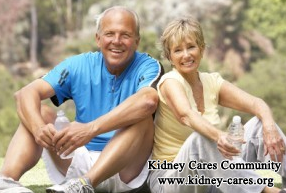 Kidneys are important organs in our body and they are responsible for keeping fluid and electrolytes balance, regulating blood pressure and generating hormones. Many factors can damage kidneys such as high blood pressure, diabetes, infection and so on. Kidney disease has two types-Acute Kidney Disease and Chronic Kidney Disease (CKD). Just as its name suggests, CKD is a progressive loss in renal function over a period of months or years. Once kidney function declines, many conditions will occur. Well then how does CKD change your life?
1. Lists of kidney disease symptoms
Changes in urination
Fatigue
Swelling
Skin itching
Leg, back or side pain
Metallic taste in mouth or ammonia breath
Nausea and vomiting
Feeling cold
Shortness of breath
Dizziness and trouble concentrating
2. How does CKD affect your life?
Feeling depressed and stressed
When you are diagnosed with this disease, it is a shock to you. Adjusting to big changes is never easy.
Planning and finances
Planning is key to your journey with chronic kidney disease. You should have plenty of time to arrange the best care and dialysis for your needs.
Burdening friends and family
Friends and family care about your welling being. However, you may not want to inconvenience them, friends and family will show you love and concern. This experience will bring you closer.
Losing your job
If you have a work, you may be concerned about how kidney disease will affect your job. Once you experience kidney disease, you may suffer from the above kidney disease symptoms. These symptoms may make you unable to work. You may lose your job.
With Chinese herbal medicine like Micro-Chinese Medicine Osmotherapy, Medicated Bath, Foot Bath, Acupuncture, Enema and Mai Kang Mixture, etc, you will be able to manage chronic kidney disease successfully. If you want to learn more information about our Chinese herbal remedies, you can leave us a message to kidneycares@hotmail.com or consult our online doctor.