Why Kidney Patients Should Protect Themselves from Catching A Cold
2015-04-29 16:10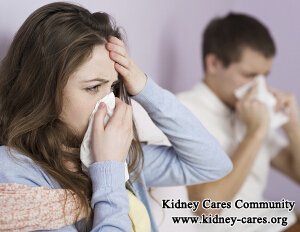 With kidney disease, patients are often asked to keep themselves away from public places or take off or put on clothes with the changes of climate to reduce the chance of infections and flu. Why kidney patients should protect themselves from catching a cold? If you want to know the answer, go on reading to learn more information.
When catching a cold, you may have sore throat, running nose, fever, headache and some other body malaise. How does it associate with kidney disease?
Many factors can impair your immune system, such as excessive fatigue, improper diet, congenital deficiencies, staying up and so on. As a result, bacteria and virus can go into your body. Due to the stimulation of those antigen, your adaptive immune system secretes a lot of antibodies to fight against them. During this course, massive immune complexes come into being and go into the blood. Kidney is responsible for filtering the blood. When blood goes through the kidneys, those immune complexes easily deposit in the kidneys, leading to kidney damage.
This damage includes three aspects.
-In order to cleanse those deposited immune complexes, your body launches inflammation, which over time causes damage.
-The deposition of immune complexes can block the blood microcirculation, leading to ischemia and anoxia, which can scar your kidneys.
-Due to the stimulant of immune complexes, your kidney tissues proliferate abnormally, leading to damage.
Flu is a kind of infection, which can make your body produce a lot of immune complexes so as to worsen your kidney disease. Therefore, you should protect yourself from catching a cold with kidney disease.
Why kidney patients should protect themselves from catching a cold? I think you have got the answer. In TCM, there are many therapies to help you strengthen your immune system to reduce the chance of infections. If you are interested in them, please contact online doctor or leave a message below.