Is Hibiscus Tea Good for Kidney Patients
2016-12-07 07:32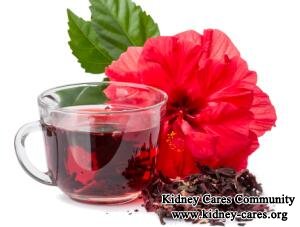 Are you looking for herbal tea for your kidney disease? Do you know what kinds of tea are suitable for you? In this article, let's have a look at whether hibiscus tea is good for kidney patients or not.
This kind of tea has a lot of health benefits.
-It can help you relieve from high blood pressure.
-It can lower bad cholesterol level and protect you against heart disease.
-It is rich in ascorbic acid, which is essential nutrient required by your body to boost and stimulate the activity of your immune system. A strong immunity can help you fight against the disease and reduce the risk of infections.
-It has diuretic properties, so it can increases your urination.
In addition, it can increase your bowel movements to help alleviate constipation. And it can also aid digestion and weight loss as well as metabolism.
Side effects of hibiscus tea
This kind of tea is not suitable for all people. If your blood pressure is low, you had better not drink it. If you have itchy red eyes, sinus, hay fever when consuming it, it should be avoided as well. Besides, if you feel intoxicated or experience hallucination when drinking it, you should be cautious.
If you would like to drink some tea to improve your heath, you can try Chinese herbal tea.
Chinese herbal tea may not taste very well, but it can benefit a lot. When it is used together with external Chinese medicine therapies, such as medicated bath, moxibustion, steam therapy and so on, they can help repair kidney damage and improve kidney function so as to help you have a good prognosis.
Is hibiscus tea good for kidney patients? Generally speaking, moderate intake is beneficial, but you had better talk with your doctor about it, in case that it counteracts with the medicine you take. Besides, it can replace your medical treatment. For more information on CKD treatment, please leave a message below or contact online doctor. We will try our best to help you.
Our Treatment Effect
High creatinine level is dangerous to a kidney patient
Move the mouse to enlarge the picture
If you also want to reduce your high creatinine level, please look at this patient's report. When he was just hospitalized in our hospital on Dec 11, 2018,
His creatinine:1028umol/L,
urea: 39.7mmol/L
UA : 513umol/L
After a period of our treatment,
his creatinine:331umol/L, urea:16.1mmol/L
UA :325umol/L on Jan 5, 2019.
His condition was getting better and better. You can also get better.
For a CKD patient, you can choose Chinese medicine treatments to control your condition. your creatinine level can be reduced radically, symptoms can be alleviated and more importantly, your renal function will be improved. In this way, you can stay away from end stage kidney disease and avoid dialysis.