Advantages of Fenugreek for Kidney Patients
2016-11-18 09:19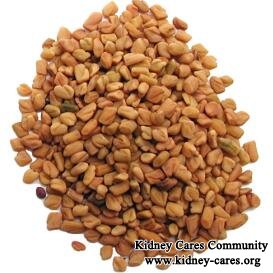 Fenugreek is a commonly used herb in Chinese medicine. What are the advantages of fenugreek for kidney patients? If you are very interested in this kind of herb, go on reading to learn more information.
-Helps control blood sugar levels
If you are a diabetic, fenugreek consumption can help you slow down the rate of sugar absorption into blood. It can also induce the production of insulin for diabetic relief.
-Helps reduce risk of heart disease
Heart disease is a common complication of kidney disease and it is also a common cause of death of renal patients. Fenugreek can lower levels of cholesterol and triglycerides to reduce the risks of heart attack. Its high potassium level can counters the action of sodium to help control heart rate and blood pressure. But if your blood potassium level is high, you had better avoid fenugreek.
-Helps digestion
Fenugreek is rich in fiber and antioxidants, which help in flushing out harmful toxins from the body, and thus, aids digestion. You can also drink fenugreek decoction in the morning to deal with constipation.
In addition, it can helps resolve hair problems, treat skin problems, soothe skin inflammation, reduce scars, lose weight, relieve gout, reduce fever, ease sore throat, etc.
Fenugreek has so many advantages for kidney patients, but you can not eat it without the instruction of doctors. And to achieve a better effect, it is used with other herbs. Only in this way can they counteract respective side effects. If you can not bear the bitter taste of herbs, you can try some external therapies, such as medicated foot bath, medicated full bath, circle therapy, hot compress, moxibustion, navel therapy, etc. They can make up a good blood environment for the damaged kidneys to heal themselves and restore your kidney function. For more information on Chinese medicine treatment, please leave a message below or contact online doctor directly. We will try our best to help you.