Can Kidney Patients Eat Grapes
2015-12-31 09:08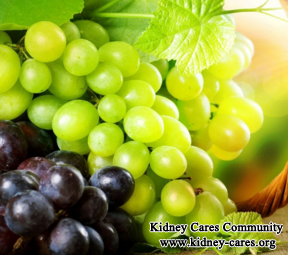 Most of us love to eat grapes, especially in hot summer. But we know kidney disease patients have many limitations on their eating. Can they eat grapes?
Generally speaking, kidney patients can eat grapes because grapes have so many health benefits:
1. Heart diseases
Heart disease is one of the leading cause of death in kidney disease patients. Grapes increase the nitric oxide levels in the blood, which prevents blood clots. Therefore, grapes are effective way to reduce the chances of heart attacks so as to reduce the risk of mortality rate in kidney patients.
2. Constipation
Grapes are effective in overcoming and eliminating constipation. They are considered as a laxative food, because they contain organic acid, sugar and cellulose. Constipation is a common complication of kidney disease and timely treatment is required.
3. Diabetes
Diabetes is a leading cause of kidney disease. If you have diabetes or your kidney disease is caused by diabetes, you should manage it timely to prevent or reduce further damage on kidneys. Recent research suggests that grape skin extract exerts a novel inhibitory activity on hyperglycemia and may help in diabetes management.
4. Kidney disorders
Grapes can reduce the acidity of uric acid and they also help discharge acid from the system, thus reducing the stress and pressure on the kidneys. Since grapes contain much water, they induce urination, which also helps to eliminate the uric acid still present in the body. Grapes have a very cleansing effect on the body, and the antioxidants present benefit all of the body's systems in peripheral ways. However, patients with swelling should not eat too much grapes.
Although grapes are loaded with many health benefits, not everyone with kidney disease can eat them. Always consult your doctor before eating any food or fruit. Of course, only a proper diet is not enough to treat kidney disease. The key point in kidney disease treatment is to take Chinese medicine treatment like Micro-Chinese Medicine Osmotherapy, Medicated Bath, Foot Bath, Mai Kang Mixture and Moxibustion Therapy to repair impaired kidney tissues and improve kidney function. Only in this way can kidney disease be cured from the root.