Is Serrano Pepper Ok To Eat For CKD Stage 4 Patients
2015-11-09 07:38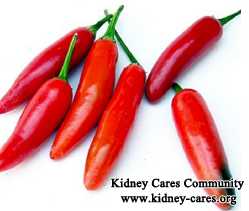 Is serrano pepper ok to eat for CKD Stage 4 patients? Kidney disease patients will ask us various dietary question. The serrano pepper is one of the hottest varieties of chili peppers. Because of the high concentration of capsaicin, consumption of serrano peppers can promote several health benefits.
There is no evidence that pepper is bad for you. Even if you have chronic kidney disease (CKD), you are safe seasoning your food with this spice. Moderation might be necessary if you have experienced oxalate-type kidney stones in the past.
Serrano pepper and kidney disease
Diet is important in managing the symptoms of chronic kidney disease. Depending on your lab results and blood pressure, you need to restrict your protein, potassium, phosphorus or sodium consumption. Since 1 spoon of pepper has only a trace of protein, no sodium, and only 4 mg of phosphorus and 31 mg potassium, people on limited diet for CKD stage 4 can still eat peppers.
Serrano pepper and high blood pressure
Kidney disease patients often suffer from high blood pressure. If left untreated, it can in turn cause further kidney damage. The consumption of pepper can be effective at lowering blood pressure due to the presence of capsaicin.
Serrano pepper and itchy skin in CKD Stage 4
Chronic itching is a big problem for most kidney patients. Numerous studies have proven that capsaicin in serrano pepper provides natural relief for skin problem in kidney disease.
In general, Serrano pepper is ok to eat for CKD stage 4 patients. But diet only plays a complementary therapy for kidney disease. Medical treatment is still the most important. Here we recommend Chinese Medicines which can repair injured kidneys and improve kidney function. If you want to get detailed information, you can leave us a message below or consult our online doctor directly. We will try our best to help you.