Can A Heart and Kidney Patient Eat Ladyfinger
2015-11-04 08:31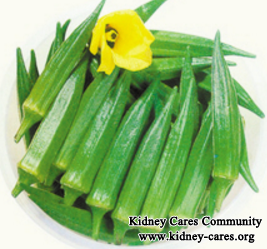 Can a kidney patient eat ladyfinger? Ladyfinger is usually used in many recipes and is also a part of many nutritional diets as it is highly beneficial. Is it a kidney-friendly diet?
Ladyfinger has the following health benefits:
1. Prevent constipation
The dietary fiber content of ladyfinger is known to be high. The fibers aid the process of digestion in the body by facilitating proper bowel movement. What's more, by facilitating the proper absorption of water, ladyfinger ensures the free motion disposal by the body, and then prevents constipation. Constipation is a common complication in kidney disease patients. Patients can eat ladyfinger to help alleviate the constipation problem.
2. Prevent diabetes
Diabetes is one of the leading cause of kidney disease. For people with diabetes, they should prevent diabetes from developing kidney disease. Ladyfinger is known to aid in the prevention of diabetes because the high fiber helps in the prevention of this disease.
3. Control cholesterol level
This vegetable ensures the lesser absorption of cholesterol, preventing heart diseases and ailments occurring due to cholesterol in the blood. Cholesterol is a dominant factor in the body that triggers heart diseases. Thus, a heart patient can eat ladyfinger to manage their condition.
4. Improve your immunity
The rich vitamin C in ladyfinger is a vital nutrient that helps improve your immunity and protects you from several diseases and infections.
From the above analysis, we can see it is OK for a heart and kidney patient to eat ladyfinger. However, it does not mean the more, the better. How much you can eat depends on your illness condition. To be safe, welcome to send your test reports to kidneycares@hotmail.com. Our experts will give you a diet plan according to your illness condition.