Are Onions OK To Eat For CKD Patients
2015-10-28 09:39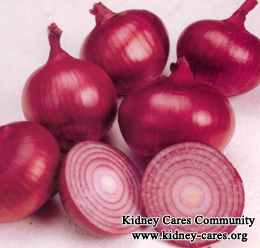 Onions have a variety of medicinal effects. Onions can be used to treat colds, coughs, bacterial infections and breathing problems. Well are onions good for chronic kidney disease (CKD) patients?
Onions are one of the excellent foods for kidney health because they are low in potassium and full of antioxidants. And they can help CKD patients from the following aspects:
1. Boost immunity
The phytochemicals in onions improve the working of vitamin C in the body, thus giving you with a strong immunity.
2. Lower high blood pressure
High blood pressure is a common complication in kidney disease. If left untreated, it can speed up the progression and cause further kidney damage. Onions contain a number of sulfides which may lower blood pressure to some extent.
3. Cardiovascular help
Most kidney disease patients die from cardiovascular diseases other than the disease itself. Thus, it is very important for patients to treat cardiovascular disease. In diet, onions are a rich source of flavonoids, substances known to provide protection against cardiovascular disease.
4. Treat diabetes
Onions can also help lower blood sugar level. Whether eaten raw or cooked, the therapeutic effect is the same. And the amount can be controlled within 25-50m per meal.
Although onions have so many benefits, it does not mean all patients with kidney disease can eat it. For example, if you are a patient with high potassium, you are not recommended to eat onions in order to avoid hyperkalemia. But if you want to eat it, you had better consult your doctor or our online doctor to make sure whether you can eat and how much you should eat. Besides onion, kidney disease patients also need to avoid other potassium foods such as banana, kiwi fruit, pumpkin, white beans and dark leafy greens, etc. Therefore, before eating some foods, you need to learn their nutrient content. Only in this way can further kidney damage be avoided due to improper diet. At last, you also need to take treatment to repair injured kidney tissues and improve kidney function.
Our Treatment Effect
High creatinine level is dangerous to a kidney patient
Move the mouse to enlarge the picture
If you also want to reduce your high creatinine level, please look at this patient's report. When he was just hospitalized in our hospital on Dec 11, 2018,
His creatinine:1028umol/L,
urea: 39.7mmol/L
UA : 513umol/L
After a period of our treatment,
his creatinine:331umol/L, urea:16.1mmol/L
UA :325umol/L on Jan 5, 2019.
His condition was getting better and better. You can also get better.
For a CKD patient, you can choose Chinese medicine treatments to control your condition. your creatinine level can be reduced radically, symptoms can be alleviated and more importantly, your renal function will be improved. In this way, you can stay away from end stage kidney disease and avoid dialysis.