Is It Ok For Kidney Disease Patients To Drink Coffee
2015-09-23 02:04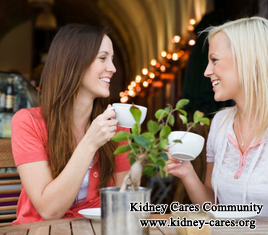 Since coffee is introduced to our country, it is very popular among people. But can kidney disease patients drink coffee? Actually kidney disease patients are not allowed to drink coffee. There are three reasons why patients cannot drink coffee.
1. Caffeine in coffee
It is a common sense that there is caffeine in the coffee. After drinking coffee, you will become more energetic and cannot fall asleep. Fatigue caused by sleep insufficiency tends to cause relapse pf kidney disease. I think most patients do not want to see this so kidney disease patients had better not drink coffee.
2. Coffee can inhibit the absorption of iron.
According to the nutritionist, drinking coffee will inhibit the absorption of iron. As we all know, once you are diagnosed with kidney disease, you will experience a series of symptoms. Some patients often suffer from renal anemia. If you still drink coffee with kidney disease, coffee inhibits the absorption of iron, which does not contribute to the recovery of renal anemia. This is very bad for kidney disease patients.
3. Caffeine may also result in the onset of epilepsy.
It seems that there is no relationship between epilepsy and kidney disease. In fact, epilepsy is related to kidney disease. As for uremia patients, in the late stage, nervous system is damaged, causing the onset of epilepsy. Besides, in clinical, caffeine is also the reason of epilepsy. Therefore, if kidney disease has progressed to uremia, patients had better avoid drinking coffee. Otherwise, the consequence would be too dire.
In summary, can kidney disease patients drink coffee? They had better not. Otherwise, the result would be too dire and even some patients die from drinking coffee.
If you have any question or want to know more information about kidney disease, you can leave us a message below or send an email to kidneycares@hotmail.com. We will reply you as soon as possible.