Which Food To Boost A Kidney Patient
2015-09-18 09:30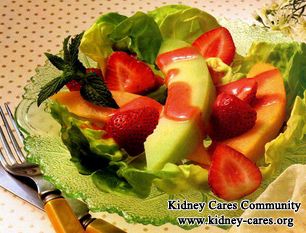 The kidneys are important body organs that help your body in waste removal, urine production and blood processing. When kidney function is affected by injuries, infections or kidney diseases, the body become unable to filter waste and blood products properly. Thus, proper food is important to boost kidney function. Well then, which food can boost a kidney patient?
1. Protein
Diseased kidneys often fail to properly remove protein from your waste. A reduced protein diet can improve kidney health and reduce the workload on your kidneys. Protein is necessary for healing from kidney diseases. You can choose foods with modest protein amounts such as rice, soy milk, low protein nuts or pasta, legumes, lean meat, fish and egg whites.
2. Vegetables and fruits
Vegetables and fruits contain powerful antioxidants, which prevents infections and boosts immune system. A low potassium diet is recommended if your potassium levels are excessive. Apples, berries, plums, cabbage, yellow squash and zucchini are low potassium foods.
3. Sodium for kidney patients
Foods with large amounts of sodium can increase blood pressure and blood pressure is one of the leading causes of kidney disease. Thus, in kidney disease, strict blood pressure control is very important. This means that if a person has a failing kidneys or his kidneys are not working 100%, he should be very careful about his sodium intake and should maintain his blood pressure. These high sodium foods to avoid include salt, all types of frozen meats, corned beef, fast food, cheese, soy sauce and all types of canned soups.
4. Phosphorus restriction for kidney patient
When kidneys are healthy and kidneys are working they will balance the amount of phosphorus in your body. Phosphorus decreases the ability to absorb calcium from the diets to the body. However, when kidneys are damaged, they will fail to eliminate this in the urine so phosphorus will increase in the blood. This high phosphorus will stop calcium to be absorbed. Foods with high phosphorus need to be avoided or limited by a person with kidney problem. High phosphorus foods needed to be avoided are milk. Start learning to use a milk substitute which may be artificial prepared milks, beans, black eyed peas, nuts, chocolate, yogurt and desserts prepared milk.
If you have any question, just leave us a message below or consult our online doctor directly. We will reply you as soon as possible.
Our Treatment Effect
High creatinine level is dangerous to a kidney patient
Move the mouse to enlarge the picture
If you also want to reduce your high creatinine level, please look at this patient's report. When he was just hospitalized in our hospital on Dec 11, 2018,
His creatinine:1028umol/L,
urea: 39.7mmol/L
UA : 513umol/L
After a period of our treatment,
his creatinine:331umol/L, urea:16.1mmol/L
UA :325umol/L on Jan 5, 2019.
His condition was getting better and better. You can also get better.
For a CKD patient, you can choose Chinese medicine treatments to control your condition. your creatinine level can be reduced radically, symptoms can be alleviated and more importantly, your renal function will be improved. In this way, you can stay away from end stage kidney disease and avoid dialysis.