Is Eggplant Good For People With CKD
2015-09-10 02:19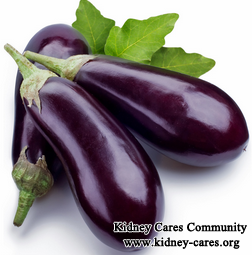 Is eggplant good for people with chronic kidney disease (CKD)? Eggplant is one of green vegetables and has abundant nutritious value for most people. However, due to diet limitation, can people with CKD eat eggplant? Here we will talk about this topic and please read on.
An overview of chronic kidney disease
Chronic kidney disease is a gradual decline of kidney function over a period of months or years. With declined kidney function, patients may suffer from various symptoms like high blood pressure, swelling, anemia, fatigue, vomiting, heart disease and so on. When you have any symptoms, you should take timely treatment to stop this condition. It happened that eggplant plays an important role in relieving these symptoms.
What are health benefits of eggplant for CKD patients?
1. Keeps diabetes in control
Diabetes is a leading cause of kidney disease. Keeping diabetes in control can reduce the risk for kidney disease. Eggplants are a very rich source of fiber and low soluble carbohydrates. Thus, they are highly beneficial for regulation of blood sugar levels. This makes them a best option for people who suffer from type 2 diabetes.
2. Good for heart
Eggplants can bring down cholesterol levels to a great extent. It also helps stabilize blood pressure level. All this in turn lowers the risk of heart diseases.
3. Alleviate anemia
Anemia is a common symptom in kidney disease. Foods rich in iron can help alleviate anemia. Eggplants have a decent amount of iron in their meaty, edible fruit. Besides, eggplants are also rich in copper which is another component of red blood cells. Thereby, kidney disease patients can eat eggplants properly.
Generally speaking, eggplant is good for people with PKD. If you are not sure whether you can eat eggplant or not, you can consult our online doctor or leave us a message below. We will reply you according to your own illness conditions.