What Is The Diet For Kidney Disease Patients
2015-07-25 02:10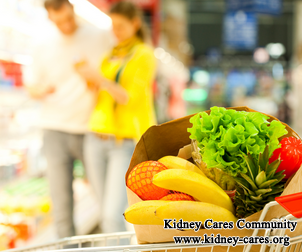 When you suffer from kidney disease, what should I eat? This may be the frequently asked question by kidney disease patients. Diet is an important part in the treatment of kidney disease. Well then, what is the diet for kidney disease patients?
1. Control potassium intake
Damaged kidneys will discharge less potassium from the body, causing high potassium level in blood. It not only leads to nausea, vomiting, fatigue and muscle cramps but also results in heart failure and even heart arrest. Potassium intake should be below 2g per day. Foods with high potassium level should be avoided like apricot, green beans, watermelon seeds, tomato, walnut and agaric, etc.
2. Limit sodium and fluid intake
In the early stage of kidney disease, swelling is the major symptom since kidneys cannot remove fluid and sodium from the body. Thus, limiting fluid and sodium is the best method to eliminate swelling. According to illness condition, urine volume and degree of edema, low salt, no salt or less sodium diet will be given to kidney disease patients. Besides, foods with high sodium foods should also be avoided. Patients with sodium and high blood pressure should follow a low sodium diet and sodium intake should be 2-3g/d. If the swelling is serious, patients should limit sodium intake below 2g/d or follow no sodium intake. At the same time, blood potassium level and sodium level should be checked regularly so as to avoid sodium content deficiency in the body due to chronic nephritis polyuria or long-term of sodium restriction.
3. Low but high quality protein intake
How much protein you can take depends on your specific illness condition. If your condition is mild, you can limit protein intake to 20-40g/d so as to reduce burden on kidneys. However, low protein diet should not last for a long time, which is to avoid anemia. You can choose high quality protein intake with more essential amino acids but less non-essential amino acids like egg, milk, lean meat and fish, etc. Beans and bean products are not suitable for you.
4. Limit calories
Treatment for kidney disease should combine rest, medicine and proper diet together. In severe case, you should stay in bed. Thus, calories consumption reduces and less activity will make you lose appetite.
5. Supply enough vitamins
Eat more green vegetables and fruits. Fresh vegetables can improve your appetite. You should control vegetables intake if you are controlling potassium; otherwise you should eat more fresh vegetables.
6. Limit stimulating foods
Spices and excitant foods should be limited. For instance, the metabolic products of foeniculum vulgare and pepper contain prune which should be discharged by kidneys. However, as for injured kidneys, it will increase kidney burden so you should not eat too much.
Our Treatment Effect
High creatinine level is dangerous to a kidney patient
Move the mouse to enlarge the picture
If you also want to reduce your high creatinine level, please look at this patient's report. When he was just hospitalized in our hospital on Dec 11, 2018,
His creatinine:1028umol/L,
urea: 39.7mmol/L
UA : 513umol/L
After a period of our treatment,
his creatinine:331umol/L, urea:16.1mmol/L
UA :325umol/L on Jan 5, 2019.
His condition was getting better and better. You can also get better.
For a CKD patient, you can choose Chinese medicine treatments to control your condition. your creatinine level can be reduced radically, symptoms can be alleviated and more importantly, your renal function will be improved. In this way, you can stay away from end stage kidney disease and avoid dialysis.