Can People with Kidney Disease Eat Nuts and Seeds
2012-10-27 10:24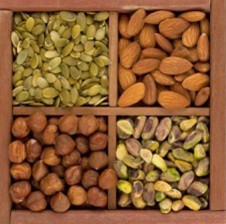 People with kidney disease should follow a healthy diet. The kidney's job is to filter bloodstream. When the kidneys don't function properly, there are certain minerals and wastes that are no longer filtered. Eating properly and avoiding foods that are harmful can help renal disease patients protect their kidneys and avoid complications. Seeds and nuts are common foods in our daily life. When diagnosed as kidney disease, can people eat nuts and seeds?
Nuts and kidney health
As is suggested, nutrients from nuts include 36% protein, 58.8% fat and carbohydrate 72.6%. In addition, nuts also provide vitamins (vitamin B and vitamin E), mineral elements such as phosphorus, calcium, iron and zinc, and dietary fibers. People with kidney diseases need to restrict their intake of proteins because an excessive protein intake produces more urea nitrogen to worsen renal condition. Kidney disease also requires low sodium because excessive sodium will retain water and raise blood pressure. Processed nuts which contain rich sodium should thus be avoided for kidney disease patients.
While there is a high fat content, the fat in peanuts is mostly unsaturated fat, such as monounsaturated and polyunsaturated fat; healthier types of fat than saturated fat. Fibers from nuts may help to stabilize blood sugar and lower blood cholesterol levels. Nuts, such as peanuts, are also a good source of proteins. People at earlier stages of kidney diseases are allowed to eat nuts; however, if they develop into advanced stages, nuts should be restricted because of the phosphorus and potassium provided.
Seeds and kidney health
Seeds, such as pumpkin, sunflower or watermelon seeds, provide rich purine. So seeds are unwise choices if people have gout disease or already high uric acid. In addition to this, seeds such as sunflower and watermelon seeds contain rich fat, proteins, zinc, proteins and various types of vitamins, which are helpful for boosting digestive function and improve your appetite. Certain compounds from seeds may benefit kidney disease patients. For instance, grape seed exact which comes from the seeds and skin of the red grape is a known antioxidant that fights against free radical damage. The bioflavenoids from seeds also help to strengthen blood vessels and encourage blood flow.
The benefits of seeds also include other aspects. For instance, sunflower seeds contain rich unsaturated fatty acids which lower serum cholesterol level and prevent occurrence of cardiovascular diseases. Seed products are beneficial for kidney health, and people may seek for an expert doctor's guidance for a proper eating plan and maintain a balanced diet to boost your health status.
Our Treatment Effect
High creatinine level is dangerous to a kidney patient
Move the mouse to enlarge the picture
If you also want to reduce your high creatinine level, please look at this patient's report. When he was just hospitalized in our hospital on Dec 11, 2018,
His creatinine:1028umol/L,
urea: 39.7mmol/L
UA : 513umol/L
After a period of our treatment,
his creatinine:331umol/L, urea:16.1mmol/L
UA :325umol/L on Jan 5, 2019.
His condition was getting better and better. You can also get better.
For a CKD patient, you can choose Chinese medicine treatments to control your condition. your creatinine level can be reduced radically, symptoms can be alleviated and more importantly, your renal function will be improved. In this way, you can stay away from end stage kidney disease and avoid dialysis.
Say goodbye to dialysis