Are Renal Patients Allowed To Have Dr Pepper
2015-07-14 11:11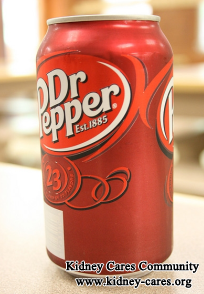 Dr pepper is a carbonated soft drink marketed as having a unique flavor. Carbonated beverage consumption has been linked with diabetes, hypertension and kidney stones, all risks factors for chronic kidney disease. Cola beverage, in particular, contain phosphoric acid and have been liked with urinary changes that promote kidney stones. From this point of view, renal patients are not allowed to have Dr Pepper. The following will give you detailed information.
Dr pepper and other cola drinks contain caffeine. They are bad for long-term health because those contain high fructose corn syrup. Drinking too much of any pop can cause tooth decay and have an effect on the calcium levels in the body. Generally speaking, drinking Dr pepper a lot may cause the following problems:
1. Bone disease
With kidney disease, phosphorus is more likely to deposit in the blood, pulling more calcium from the bone. This will lead to renal bone disease like osteoporosis. Dr pepper and other cold drinks can worsen this problem, as it can affect the absorption of calcium and flush calcium out of the body.
2. Sleep problem
Due to muscle cramp, itchy skin and frequent urination, kidney disease patients may have sleep problem. Dr pepper and other cola drinks containing caffeine should be avoided by patients who have sleep problem.
Additionally cola drinks or coffee may burden your kidneys. This is another reason why renal experts do not allow kidney disease patients to have Dr Pepper. Kidney disease patients should drink Dr pepper carefully.