Is It Safe For CKD Patients To Eat Chickpeas
2015-07-13 09:25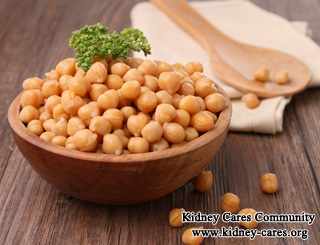 Is it safe for Chronic Kidney Disease (CKD) patients to eat chickpeas? Chickpeas contain exceptional levels of iron, vitamin B-6 and magnesium. Well then, can kidney disease patients eat chickpeas?
Actually there are many health benefits for kidney disease patients to eat chickpeas in right amount. In this article, you will know what health benefits you will get from chickpeas.
1. Diabetes
Kidney disease can be caused by poor control of long-term of diabetes. Studies have shown that type 1 diabetics who consume high-fiber diets have lower blood glucose levels and type 2 diabetes may have improved blood sugar, lipids and insulin levels.
2. Bone health
Kidney disease patients are vulnerable to bone health. The iron, phosphate, calcium and magnesium, zinc and vitamin K in chickpeas help to build and maintain bone structure and strength.
3. Lower blood pressure
A low sodium intake is able to lower blood pressure, however increasing potassium intake may be just as important because of its vasodilation effects. High blood pressure is the second leading cause of kidney disease. Thus, blood pressure management is able to reduce the risk for kidney disease.
4. Prevent constipation
Constipation is a common complication of kidney disease. Because of high-fiber content, chickpeas help to alleviate constipation and promote regularity for a healthy digestive tract.
Although chickpeas have so many health benefits, kidney disease patients still need to eat chickpeas in the right amount. How much you can eat chickpeas depends on specific medical conditions. Thus, you can send your medical reports to kidneycares@hotmail.com, and we will tell you the right amount you can eat after analyzing.